Pronator Teres Syndrome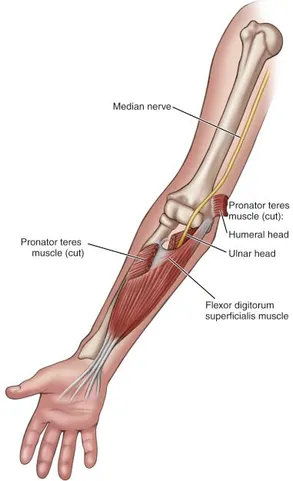 What is Pronator Teres Syndrome?

Pronator Teres Syndrome describes the signs and symptoms that results from compression of the median nerve by the pronator teres muscle near the elbow. It is similar to but discernable from its more common distal counterpart, carpal tunnel syndrome. (1) Pronator Syndrome is responsible for 9.2% of all cases of median nerve entrapment. (2)
How does Pronator Teres Syndrome Occur?
Pronator syndrome occurs from entrapment of the median nerve by the pronator teres muscle. It is associated with prolonged or repetitive forearm movements, i.e., gripping with the palm down. Carpenters, mechanics, assembly line workers, tennis players, rowers, and weight lifters are predisposed to this problem. (6) The condition is often associated with excessively developed forearm muscles and is more common in the dominant arm. (7,8) The typical age of onset is in the fifth decade, and the condition is four times more common in women than in men. (9) Like other neuropathies, patients with diabetes, alcoholism or hypothyroidism are predisposed to this condition.
What are the Symptoms?
Pronator syndrome often presents as an aching discomfort in the forearm with associated paresthesias into the thumb, pointer, and index finger. Symptoms of pronator syndrome can mimic those of carpal tunnel syndrome with some important points of differentiation. Both conditions may be exacerbated by repetitive activity. Patient do not complain of night pain, which distinguishes this condition from carpal tunnel (10, 11,12). Patients may note tenderness over the pronator teres muscle. Medial elbow tenderness is common. Pronator syndrome may be associated with weakness of the forearm muscles innervated by the median nerve. Weakness is variable and is often associated with a sensation of grip clumsiness or a weakened pincher grip.
Treatment options:
An effective conservative management strategy includes rest, modalities, muscle active release, and nerve gliding exercises.
Perhaps the most important aspect of treatment is avoidance of repetitive forceful gripping. Ice packs or ice massage directly over the pronator teres muscle may provide benefit.
The use of ultrasound and electrical stimulation has shown benefit for the treatment of other nerve pathologies, and their use may be beneficial in the treatment of pronator syndrome. One study demonstrated that 50% of pronator syndrome patients reported resolution of symptoms within four months of initiating care. Surgical decompression of the median nerve is a consideration when non-operative management fails (1).
At Creekside Performance Center, we are highly trained to treat this condition. We are the only inter-disciplinary clinic in Sheboygan county that provides chiropractic, myofascial release, ART (Active Release Technique), massage therapy, acupuncture, physiotherapy, rehabilitative exercise, nutritional counseling, personal training, and golf performance training under one roof. Utilizing these different services, we can help patients and clients reach the best outcomes and the best versions of themselves.
Evidence Based-Patient Centered-Outcome Focused
References:
1. Lee MJ, LaStayo PC. Pronator Syndrome and Other Nerve Compressions That Mimic Carpal Tunnel Syndrome. J Orthop Sport Phys Ther 2004;34:601-609.
2. Gessini L, Jandolo B, Pietrangeli A. Entrapment neuropathies of the median nerve at and above the elbow. Surg Neurol. 1983;19:112-116.
3. Eversmann WW. Proximal median nerve compression. Hand Clin. 1992;8:307-315.
4. Nebot-Cegarra J, Perez-Berruezo J, Reina de la Torre F. Variations of the pronator teres muscle: predispositional role to median nerve entrapment. Arch Anat Histol Embryol. 1991;74:35-45.
5. Tulwa N, Limb D, Brown RF. Median nerve compres- sion within the humeral head of pronator teres. J Hand Surg [Br]. 1994;19:709-710.
6. Howard FM. Compression neuropathies in the anterior forearm. Hand Clin. 1986;2:737-745.
7. www.orthobullets.com/hand/6020...
8. www.mdguidelines.com/pronator-...
9. Tetro AM, Pichora DR. High median nerve entrapments. An obscure cause of upper-extremity pain. Hand Clin. 1996;12:691-703.
10. Haussmann P, Patel MR. Intraepineurial constriction of nerve fascicles in pronator syndrome and anterior interosseous nerve syndrome. Orthop Clin North Am. 1996;27:339-344.
11. Rehak DC. Pronator syndrome. Clin Sports Med. 2001;20:531-540.
12. Werner CO, Rosen I, Thorngren KG. Clinical and neurophysiologic characteristics of the pronator syndrome. Clin Orthop. 1985;231-236.
13. Gainor BJ. The pronator compression test revisited. A forgotten physical sign. Orthop Rev. 1990;19:888-892.
14. Upton AR, McComas AJ. The double crush in nerve entrapment syndromes. Lancet 1973 Aug 18;2(7825):359-62.
15. Hartz CR,Linscheid RL,Gramse RR,Daube JR. The pronator teres syndrome: compressive neuropathy of the median nerve. J Bone Joint Surg Am. 1981 Jul;63(6):885-90.
16. Ebenbichler GR, Resch KL, Nicolakis P, et al. Ultrasound treatment for treating the carpal tunnel syndrome: randomized ''sham'' controlled trial. BMJ. 1998;316:731-735.