Sacroiliac Joint Dysfunction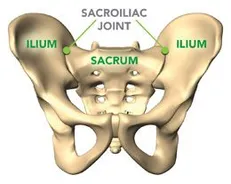 The sacroiliac joint (SIJ) is the load-bearing, shock-absorbing union between the spine and pelvis. There are two joints on each side of the sacrum. It is a mechanical link that connects the chain of locomotion to the rest of the body. It acts as the base for the rest of your spine. They are a very stable joint, however motion is necessary at the S.I joints for proper lumbopelvic motion.

Common causes of S.I joint dysfunction:

Structural and functional leg length inequalities

gait abnormalities

lower extremity joint pain
flat feet
improper shoes
scoliosis
prior lumbar fusion
lumbopelvic myofascial dysfunction
repetitive strenuous activity
trauma- especially a fall onto the buttocks.
Pregnancy: weight gain, gait changes and postural stressors, and hormone-induced ligamentous laxity.
Symptoms:
Sacroiliac joint dysfunction can cause pain to refer to different regions, depending upon which section of the joint is irritated (15). Irritation to the joint can cause pain in the region of the PSIS, which is the bony landmark on both sides of your low back. It can also cause pain in your gluteal (buttock) area. Interestingly, 44% of SI joint patients report referral to the groin. (15)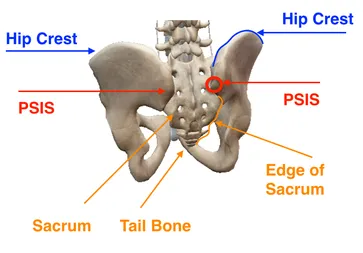 Symptoms may be made worse by bearing weight on the affected side and relieved by shifting weight to the unaffected side. Pain may be provoked by arising from a seated position, long car rides, transferring in and out of a vehicle, rolling from side to side in bed, or by flexing forward while standing. Pain is often worse while standing or walking and relieved by lying down.

Treatments:
Conservative intervention with manipulation or exercise is helpful for SIJD patients. (22,23) Sacroiliac joint manipulation can restore motion to hypomobile joints and has shown benefit (10,12,14).
Ultrasound, ice and electrical stimulation may help control pain and inflammation.
Myofascial release and stretching may be appropriate for the gluteus, hamstrings, piriformis, TFL, quadratus lumborum, lumbar erectors, and lattissimus dorsi.
The goal of strengthening exercises is to improve lumbopelvic stability. Specific muscle targets include the transverse abdominus, abdominal obliques, lumbar erectors, gluteus, hip abductors and hip adductors (11).
What can I do at to help this issue?
Patients should be conscious of posture and ergonomics
Avoid activities that provoke symptoms including prolonged standing on the affected leg, prolonged sitting, and positions that put your hips in a strange position
Arch supports, orthotics or a heel lift to correct structural deficits may be indicated.
A sacroiliac support belt may provide benefit, although excessive tightness may aggravate the trochanteric bursa.
NSAIDS may be helpful.
Glucosamine and chondroitin supplements may provide benefit for osteoarthritis sufferers.
At Creekside Chiropractic & Performance Center, we are highly trained to treat this condition. We are the only inter-disciplinary clinic in Sheboygan county that provides chiropractic, myofascial release, ART (Active Release Technique), massage therapy, acupuncture, physiotherapy, rehabilitative exercise, nutritional counseling, personal training, and golf performance training under one roof. Utilizing these different services, we can help patients and clients reach the best outcomes and the best versions of themselves. Voted Best Chiropractor in Sheboygan by the Sheboygan Press.
Evidence Based-Patient Centered-Outcome Focused
Sources:
Sturesson B, Selvik G, Uden A. Movements of the sacroiliac joints: A roentgnen stereophotogrammetric analysis. Spine. 1989;14:162–165.
Sturesson B, Uden A, Vleeming A. A radiostereometric analysis of the movements of the sacroiliac joints in the reciprocal straddle position. Spine. 2000;25:214–217.
Maigne JY, Aivaliklis A, Pfefer F. Results of sacroiliac joint double block and value of sacroiliac pain provocation tests in 54 patients with low back pain. Spine 1996;21: 1889–1892.
Bernard TN Jr, Kirkaldy-Willis WH. Recognizing specific characteristics of nonspecific low back pain. Clin Orthop Relat Res. Apr 1987;217:266-80.
Fortin JD, Washington WJ, Falco FJE. Three pathways between the sacro-iliac joint and neural structures. AJNR. 1999;20:1429–1434.
Laslett M. Evidence-Based Diagnosis and Treatment of the Painful Sacroiliac Joint J Man Manip Ther. 2008; 16(3): 142–152
Laslett M, McDonald B, Tropp H, Aprill CN, Oberg B. Agreement between diagnoses reached by clinical examination and available reference standards: A prospective study of 216 patients with lumbopelvic pain. BMC Musculoskelet Disord. 2005;6:28.
Poley RE, Borchers JR. Sacroiliac joint dysfunction: evaluation and treatment. Phys Sportsmed. 2008 Dec;36(1):42-9.
Michael J. Tuite Sacroiliac Joint Imaging. Semin Musculoskelet Radiol 2008; 12(1): 072-082
Foley BS, Buschbacher RM. Sacroiliac joint pain: Anatomy, biomechanics, diagnosis, and treatment. Am J Phys Med Rehabil. 2006;85:997–1006.
Stuge B, Laerum E, Kirkesola G, Vollestad N: The efficacy of a treatment program focusing on specific stabilizing exercises for pelvic girdle pain after pregnancy: a randomized controlled trial. Spine 2004, 29:351-359.
L. H. Visser, N. P. Woudenberg, J. de Bont, F. van Eijs, K. Verwer, H. Jenniskens, and B. L. Den Oudsten Treatment of the sacroiliac joint in patients with leg pain: a randomized-controlled trial European Spine JournalOctober 2013, Volume 22, Issue 10, pp 2310-2317
Vleeming A et al. The function of the long dorsal sacroiliac ligament: its implication for understanding low back pain. Spine 1996 Mar 1;21(5):556-62.
L. H. Visser, N. P. Woudenberg, J. de Bont, F. van Eijs, K. Verwer, H. Jenniskens, and B. L. Den Oudsten Treatment of the sacroiliac joint in patients with leg pain: a randomized-controlled trial European Spine JournalOctober 2013, Volume 22, Issue 10, pp 2310-2317
Kurosawa D, Murakami E, Aizawa T. Referred pain location depends on the affected section of the sacroiliac joint. Eur Spine J. 2015 Mar;24(3):521-7.
Eno JJ, et al The prevalence of sacroiliac joint degeneration in asymptomatic adults. J Bone Joint Surg Am. 2015 Jun 3;97(11):932-6.
Adhia DB, et al. Innominate movement patterns, rotation trends and range of motion in individuals with low back pain of sacroiliac joint origin. Man. Ther. 2016 Feb;21:100-8.
Schmidt G. et al. Management of Sacroiliac Joint Pain. Journal of the American Academy of Orthopaedic Surgeons. 2018 Jul 27. doi: 10.5435/JAAOS-D-15-00063. [Epub ahead of print]
Bernard TN, Kirkaldy-Willis WH. Recognizing specific characteristics of nonspecific low back pain. Clin Orthop. 1987;(217):266–280.
Sembrano JN, Polly DW. How often is low back pain not coming from the back? Spine. 2009;34(1):E27–E32
DePhillipo NN et al. Sacroiliac Pain: Structural Causes of Pain Referring to the SI Joint Region. Clinical Spine Surgery. Publish Ahead of Print():, OCT 2018
Nejati P et al. Effectiveness of Exercise Therapy and Manipulation on Sacroiliac Joint Dysfunction: A Randomized Controlled Trial. Pain Physician. 2019 Jan;22(1):53-61.
Kamali F et al. Comparison of manipulation and stabilization exercises in patients with sacroiliac joint dysfunction patients: A randomized clinical trial. J Bodyw Mov Ther. 2019 Jan;23(1):177-182. doi: 10.1016/j.jbmt.2018.01.014. Epub 2018 Jan 31.
Matsumoto J et al. Middle cluneal nerve entrapment mimics sacroiliac joint pain. Acta Neurochir (Wien). 2019 Mar 4. doi: 10.1007/s00701-019-03861-0. [Epub ahead of print]
Daisuke Kurosawa, Eiichi Murakami, Hiroshi Ozawa, et al. A Diagnostic Scoring System for Sacroiliac Joint Pain Originating from the Posterior Ligament, Pain Medicine, Volume 18, Issue 2, 1 February 2017, Pages 228–238