What is Cubital Tunnel Syndrome?
Cubital tunnel syndrome is a condition that involved pain and numbness on the inside of your elbow down into your 4thand 5thfingers. This condition is caused by irritation to the ulnar nerve (also called the "funny bone") that is typically caused by compression or excessive traction to the ulnar nerve as it travels through the arm.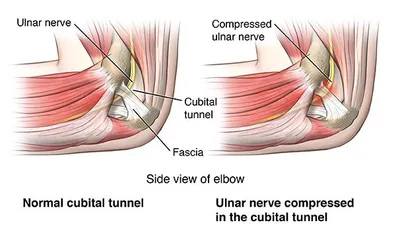 Who gets cubital tunnel syndrome?

Cubital tunnel is commonly seen in athletes in baseball, tennis and racquetball players. Workers who maintain sustained elbow flexion, such as holding a tool or telephone, or those who press the ulnar nerve against a hard surface, like a desk, are at increased risk. Cubital tunnel syndrome has been coined "cell phone elbow". Women have significantly increased fat at the medial aspect of the elbow providing greater protection. Therefore it is not surprising that cubital tunnel syndrome affects men 3-8 times as often as women.
What are tbhe symptoms of cubital tunnel syndrome?
Symptoms may vary from vague hypersensitivity to pain. The condition is often progressive. Nocturnal symptoms are common. In more advanced cases, discomfort may be accompanied by loss of grip strength and fine motor control. Late stages may include intrinsic muscle wasting.
Do I need imaging?
Radiographs of the elbow are of limited value except in cases of trauma, failed trial of conservative care, or suspected bony encroachment. Diagnostic ultrasound is a sensitive and specific method for diagnosing ulnar neuropathy at the elbow. (10) An EMG is generally not necessary unless the diagnosis is in question or the condition fails to respond to conservative care. MRI may demonstrate enlargement of the ulnar nerve and may help define ganglions, neuromas and aneurysms of the ulnar artery but otherwise is of limited value in the workup up cubital tunnel syndrome.
What are the best treatment options?
Management of ulnar nerve compression includes rest, ice, pulsed ultrasound, nerve mobilization techniques, myofascial release techniques, adjusting associated joint restrictions.
Activity modification to limit prolonged flexion and direct pressure is the key to successful management.
A night-time elbow splint that limits flexion may be helpful (45 degrees of flexion is thought to be the optimal position to decrease pressure) (9).
A protective pad to limit repetitive daytime trauma from work or sports may prove useful.
Stretching the pronators is useful.
Along with Chiropractic, Creekside Performance Center has massage therapy, physical therapy, rehabilitation exercises, acupuncture, 1:1 personal training, small group training, and nutrition experts to help you get to a better, healthier you.
At Creekside Chiropractic & Performance Center, we are highly trained to treat this condition. We are the only inter-disciplinary clinic in Sheboygan county that provides chiropractic, myofascial release, ART (Active Release Technique), massage therapy, acupuncture, physiotherapy, rehabilitative exercise, nutritional counseling, personal training, and golf performance training under one roof. Utilizing these different services, we can help patients and clients reach the best outcomes and the best versions of themselves. Voted Best Chiropractor in Sheboygan by the Sheboygan Press.
Evidence Based-Patient Centered-Outcome Focused
Sources:
1. Nicholas, J.A. The Upper Extremity in Sports Medicine, CV Mosby, 1990 p.343
2. Wilgis EF, Murphy R. The significance of longitudinal excursion in peripheral nerves. Hand Clin. Nov 1986;2(4):761-6.
3. Charness ME. Unique upper extremity disorders of musicians. In: Millender, ed. Occupational Disorders of the Upper Extremity. New York, NY: Churchill Livingstone;. 1992: 227-52.
4 .Contreras MG, Warner MA, Charboneau WJ. Anatomy of the ulnar nerve at the elbow: potential relationship of acute ulnar neuropathy to gender differences. Clin Anat. 1998;11(6):372-8.
5. Sarwark, J.F., Essentials of Musculoskeletal Care, American Academy of Orthopedic Surgeons 4th ed, 2010, p.275
6. Buehler MJ, Thayer DT. The elbow flexion test. A clinical test for the cubital tunnel syndrome. Clin Orthop. Aug 1988;(233):213-6.
7. Rayan GM, Jensen C, Duke J. Elbow flexion test in the normal population. J Hand Surg [Am]. Jan 1992;17(1):86-9.
8. Ochi K, Horiuchi Y, Tanabe A, Morita K, Takeda K, Ninomiya K. Comparison of shoulder internal rotation test with the elbow flexion test in the diagnosis of cubital tunnel syndrome. J Hand Surg Am. May 2011;36(5):782-7.
9. Yamaguchi K, Sweet FA, Bindra R. The extraneural and intraneural arterial anatomy of the ulnar nerve at the elbow. J Shoulder Elbow Surg. Jan-Feb 1999;8(1):17-21.
10. Rayegani SM et al. Diagnostic value of ultrasonography versus electrodiagnosis in ulnar neuropathy. Med Devices (Auckl). 2019 Feb 22;12:81-88. doi: 10.2147/MDER.S196106. eCollection 2019.