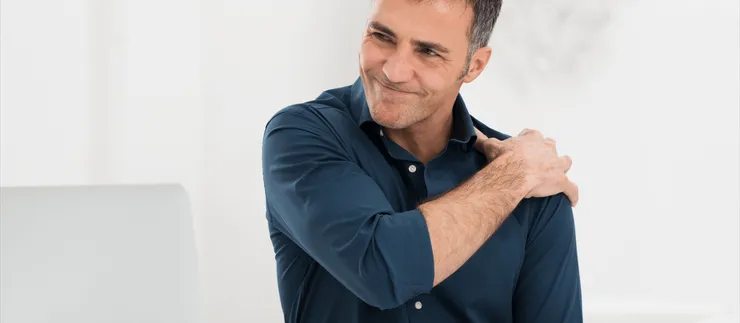 The shoulder is a very complicated joint involving an intersection between the collarbone, the shoulder blade, the socket of the humerus, and numerous intersecting ligaments and muscles including the trapezius, deltoid, pectorals, bicep/tricep, rotator cuff muscles , joint capsules, bursa, labrum, and AC ligaments. This leaves a very broad scope of potential conditions that can lead to pain, weakness, or loss of motion in the shoulder. Below you will find some of the most common injuries to the shoulder that can be treated with conservative care here at Creekside.
Click on each condition for more details.
Anterior Shoulder Impingement: Shoulder impingement syndrome is a common issue of the shoulder, and is caused when the supraspinatus tendon becomes painfully entrapped between the tip of your shoulder blade (the acromion process) and humerus while raising and internally rotating the arm. Repetitive impingement is thought to precipitate a cascade of shoulder dysfunction including rotator cuff tendonopathy, degeneration of associated joints and eventually, rotator cuff rupture. Research suggests that 95% of chronic rotator cuff tears are due to impingement.
Scapular dyskinesis: A common clinical finding in patients with shoulder problems. Dyskinesis refers to the improper movement and static positions of the shoulder blade (scapula). Dyskinesis is found in up to 100 percent of shoulder impingement cases.
Rotator Cuff Tendonopathy: The rotator cuff includes four tendons: the supraspinatus, infraspinatus, teres minor and subscapularis as they insert into the capsule of the glenohumeral (ball and socket) shoulder joint. Collectively, the primary function of the rotator cuff is to stabilize the shoulder while the larger muscles move it.
Adhesive Capsulitis: Adhesive capsulitis, or "frozen shoulder syndrome" describes an ongoing and painful limitation of shoulder movement.
Biceps Tendonopathy: Biceps tendinopathy describes a painful inflammation or degeneration of the tendon of the long head of the biceps.
Labral tear/lesion: A common lesion of the labrum is called a SLAP lesion, which reflects the most common area of the labrum that is injured.
AC joint sprain: This issue accounts for 40-50 percent of shoulder injuries in athletes-particularly football, hockey, and rugby.
Thoracic outlet syndrome: A condition that causes tingling and pain in your arms.
At Creekside Chiropractic & Performance Center, we are highly trained to treat each of these conditions. We are the only inter-disciplinary clinic providing services to Sheboygan, Sheboygan Falls, Plymouth, and Oostburg including chiropractic, manual therapy, myofascial release, ART (Active Release Technique), massage therapy, acupuncture, physiotherapy, rehabilitative exercise, nutritional counseling, personal training, and golf performance training under one roof. Utilizing these different services, we can help patients and clients reach the best outcomes and the best versions of themselves. Voted Best Chiropractor in Sheboygan by the Sheboygan Press.
Evidence Based-Patient Centered-Outcome Focused