Frozen Shoulder Syndrome
Adhesive capsulitis, or "frozen shoulder syndrome" describes an ongoing and painful limitation of shoulder movement (1). Adhesive capsulitis may be classified as "primary" or "secondary" (2). Patients with "primary" adhesive capsulitis are unable to identify the cause of the condition. "Secondary" capsulitis is more common and follows a period of restricted shoulder motion (i.e. rotator cuff injury, trauma, surgery, etc) (3,4). One study found that patients who underwent a period of shoulder immobilization were 5-9 times more likely to experience adhesive capsulitis (4).
The Stages of Adhesive Capsulitis:
Adhesive capsulitis may be subdivided into 3 contiguous stages (6,7) Stage 1is recognized as the "painful" or "freezing" stage that demonstrates a gradual progressive loss of shoulder range of motion over the next weeks to months (26). The development of new nerve growth during this phase may contribute to a heightened pain response (20,26). Stage 2is the "frozen" stage, characterized by pain and significant loss of range of motion for the next several months. The shoulder undergoes progressive fibrosis, capsular thickening, and adhesions in the subarachnoid bursa, subdeltoid bursa, biceps tendon, and subscapularis tendon (8-16). This period of prolonged immobilization may lead to long-term detrimental consequences, including atrophy, degeneration, and permanent motion restrictions. Stage 3is the "thawing" stage that is associated with progressively decreasing pain and stiffness. Patients may require up to nine months to regain a functional range of motion (17-20).
Prevelance and of adhesive capsulitis:
Adhesive capsulitis is thought to affect 2-5% of the population at some point in their lifetime (21,22). Concurrent medical issues may increase one's risk for developing adhesive capsulitis. The incidence of adhesive capsulitis rises to 10-20% in those with Type 2 diabetes, and 36% in those with Type 1 diabetes (22,23). In patients with primary adhesive capsulitis, 38% of men and 24% of women have diabetes (24). Additionally, diabetics tend to experience protracted recoveries and poorer clinical outcomes (25). Patients with thyroid disease are at increased risk for developing adhesive capsulitis (23,24). Adhesive capsulitis is most common in the 40-65-year old population with a peak incidence between 51 and 55 (26,27). Females are affected more frequently (26,28). Asians have a 3.6 times greater risk for the development of adhesive capsulitis (87). The condition shows no preference for handedness, but those who have had a prior episode in the opposite arm are at greater risk (24,26) .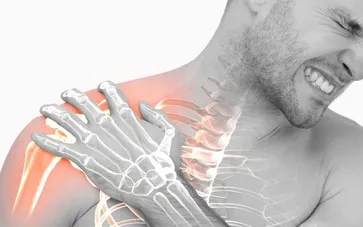 Symptoms of Adhesive Capsulitis:

Patients with primary adhesive capsulitis present with gradual onset pain and stiffness that cannot be explained by their history or clinical findings.
Patients with secondary adhesive capsulitis will report shoulder pain that started following an event (i.e. fall, surgery) or another concurrent condition (i.e. rotator cuff pathology, subacromial bursitis, etc).
Symptoms of adhesive capsulitis include progressive pain, most focal to the lateral shoulder, with sharp intensification at end range motion (29). Night pain and sleep disturbances are common (29,79). Functional range of motion deficits limit reaching overhead, behind the back, or to the side (29). Patients often report difficulty grooming and dressing (26). Symptoms have generally progressed or plateaued for at least one month prior to presentation. (7)
The classic finding is a global loss of shoulder range of motion (29,31). Movement limitations greater than 25% are usually evident in at least two planes (33). The primary feature of adhesive capsulitis is painful, limited, passive external rotation. (34-38) Passive external rotation loss is often greater than 50%. (33,79) External rotation should be measured in both adduction (with the arm at the side) and abduction (with the arm in a frontal plane). (26,35) Loss of passive external rotation with the arm positioned at the side is the most common range of motion deficit in adhesive capsulitis. (35) Internal rotation deficits may be greater than external rotation deficits when the arm is positioned in 90 degrees of frontal plane abduction. (35) Passive shoulder abduction may be limited between 45 and 135 degrees- most commonly less than 100 degrees (7,79).
Normal scapular movement is responsible for up to 1/3 of total arm elevation, thus scapular dysfunction may have a significant impact on range of motion in adhesive caspulitis patients (40,41). Cervical spine intersegmental dysfunction is recognized as a contributor to other upper extremity pathologies. The cervical spine should be assessed for segmental restrictions and as a source for potential referred pain.
Are x-rays needed?
Plain film shoulder radiographs are appropriate to rule out pathology, including osteoarthritis or dislocation. (43,78) Radiographs should include an anterior-posterior (AP) view, supraspinatus outlet view, and an axillary lateral view (if possible). (43) Radiographs of patients with adhesive capsulitis are typically normal, although incidental osteoarthritic findings are common. (2) MRI is appropriate when needed to define or rule out rotator cuff pathology or when the patient does not show improvement after a reasonable period of care (6-12 weeks) (44,45).
Treatment options for adhesive capsulitis:
No single intervention seems to be significantly more effective than any other in the treatment of adhesive capsulitis (which suggests that there are no overly effective options).
A collection of studies on the effectiveness of manual therapy for the treatment of adhesive capsulitis shows varied outcomes, with the majority demonstrating improvements in range of motion, pain, and function (48-56).
Manual techniques should include active and passive stretching of the shoulder capsule with end-range mobilization (57). Several studies suggest that joint mobilization is a useful treatment strategy (58-63).
Anterior, posterior, and inferior glide mobilizations performed at the end range of abduction can produce a significant improvement in glenohumeral abduction. (63)
Scapular mobilization should be a component of treatment (40).
Cervical and thoracic spinal manipulation has been shown to be helpful in the treatment of shoulder pain and dysfunction. (80-85) Stretching exercises should be geared to correct postural deficits, including lower crossed syndrome and scapular dyskinesis. Implementation of exercises to improve scapular mobility and function are associated with improved outcomes (65).
Heat, ultrasound, and electrical stimulation modalities may provide palliative relief as an adjunct to manual therapy. (26)
Low-level laser has demonstrated effectiveness in the management of adhesive capsulitis. (86) Adhesive capsulitis has traditionally been thought of as a self-limiting disorder lasting up to 18 months, with residual motion deficits in at least 10% of patients (67,68). In some cases, symptoms may last for years (67). Patients must clearly understand the natural chronicity of this condition to limit apprehension and treatment frustration. Difficult cases may require medical and/or surgical management. Oral corticosteroids may be appropriate for severe cases with significant pain (69,70).
Intraarticular corticosteroid injections, when combined with manual therapy, may enhance short-term pain relief (26).
At Creekside Chiropractic & Performance Center, we are highly trained to treat this condition. We are the only inter-disciplinary clinic in Sheboygan county that provides chiropractic, myofascial release, ART (Active Release Technique), massage therapy, acupuncture, physiotherapy, rehabilitative exercise, nutritional counseling, personal training, and golf performance training under one roof. Utilizing these different services, we can help patients and clients reach the best outcomes and the best versions of themselves. Voted Best Chiropractor in Sheboygan by the Sheboygan Press.
Evidence Based-Patient Centered-Outcome Focused
Sources:
1. Codman EA. The shoulder. Boston, Mass: Thomas Todd; 1934.
2. Lundberg BJ. The frozen shoulder. Clinical and radiographical observations. The effect of manipulation under general anesthesia. Structure and glycosaminoglycan content of the joint capsule. Local bone metabolism. Acta Orthop Scand Suppl. 1969;119:1-59.
3. Malone T, Hazle C. Rehabilitation of adhesive capsulitis. In: Ellenbecker TS, editor. Shoulder rehabilitation. Non-operative treatment. New York: Thieme; 2006.
4. Bruckner FE, Nye CJ. A prospective study of adhesive capsulitis of the shoulder ("frozen shoulder') in a high risk population. Q J Med. Spring 1981;50(198):191-204.
6. Neviaser AS, Hannafin JA. Adhesive capsulitis: a review of current treatment. Am J Sports Med. 2010;38:2346-2356
7. Pearsall AW et al. Adhesive Capsulitis. emedicine.medscape.com Accessed 3/2/14
8. Anton HA. Frozen shoulder. Can Fam Physician. 1993;39:1772–8.
9. Fareed DO, Gallivan WR. Office management of frozen shoulder syndrome. Clin Orthop. 1989;242:177–83.
10. Loyd JA, Loyd HM. Adhesive capsulitis of the shoulder: arthrographic diagnosis and treatment. South Med J. 1983;76:879–83.
11. McClure PW, Flowers KR. Treatment of limited shoulder motion: a case study based on biomechanical consideration. Phys Ther. 1992;72(12):929–36.
12. Murnaghan JP. Adhesive capsulitis of the shoulder: current concepts and treatment. Orthopedics. 1988;11(1):153–8.
13. Neviaser JS. Adhesive capsulitis and the stiff and painful shoulder. Orthop Clin North Am. 1980;11:327–31.
14. Parker RD, Rroimson AL, Arsham NZ. Frozen shoulder. Part II: treatment by manipulation under anesthesia. Orthopedics. 1989;12:989–90.
15. Rizk TE, Christopher RP. Adhesive capsulitis (frozen shoulder): a new approach to its management. Arch Phys Med Rehabil. 1983;64:29–33.
16. Rizk TE, Pinals RS. Frozen shoulder. Semin Arthritis Rheum. 1982;11:440–51. doi: 10.1016/0049-0172(82)90030-0.
17. Tveita EK, Sandvik L, Ekeberg OM, Juel NG, Bautz-Holter E. Factor structure of the Shoulder Pain and Disability Index in patients with adhesive capsulitis. BMC Musculoskelet Disord. Jul 17 2008;9:103.
18. Tasto JP, Elias DW. Adhesive capsulitis. Sports Med Arthrosc. Dec 2007;15(4):216-21.
19. Hand C, Clipsham K, Rees JL, Carr AJ. Long-term outcome of frozen shoulder. J Shoulder Elbow Surg. Mar-Apr 2008;17(2):231-6.
20. Hand GC, Athanasou NA, Matthews T, Carr AJ. The pathology of frozen shoulder. J Bone Joint Surg Br. Jul 2007;89(7):928-32.
21. Aydeniz A, Gursoy S, Guney E. Which musculoskeletal complications are most frequently seen in type 2 diabetes mellitus? J Int Med Res. 2008;36:505-511.
22. Tighe CB, Oakley WS Jr. The prevalence of a diabetic condition and adhesive capsulitis of the shoulder. South Med J. Jun 2008;101(6):591-5.
23. Balci N, Balci MK, Tüzüner S. Shoulder adhesive capsulitis and shoulder range of motion in type II diabetes mellitus: association with diabetic complications. J Diabetes Complications. 1999;13:135-140
24. Milgrom C, Novack V, Weil Y, Jaber S, Radeva-Petrova DR, Finestone A. Risk factors for idiopathic frozen shoulder. Isr Med Assoc J. 2008;10:361-364
25. Griggs SM, Ahn A, Green A. Idiopathic adhesive capsulitis. A prospective functional outcome study of nonoperative treatment. J Bone Joint Surg Am. 2000;82-A:1398-1407.
26. Kelley MJ, Shaffer MA, Kuhn JE, Michener LA, Seitz AL, Uhl TL, Godges JG, Mcclure PW. Shoulder Pain and Mobility Deficits: Adhesive Capsulitis Clinical Practice Guidelines Linked to the International Classification of Functioning, Disability, and Health From the Orthopaedic Section of the American Physical Therapy Association J Orthop Sports Phys Ther 2013;43(5):A1-A31
27. Pal B, Anderson J, Dick WC, Griffiths ID. Limitation of joint mobility and shoulder capsulitis in insulin- and non-insulin-dependent diabetes mellitus. Br J Rheumatol. 1986;25:147-151.
28. Sheridan MA, Hannafin JA. Upper extremity: emphasis on frozen shoulder. Orthop Clin North Am. 2006;37:531-539
29. Binder AI, Bulgen DY, Hazleman BL, Roberts S. Frozen shoulder: a long-term prospective study. Ann Rheum Dis. 1984;43:361-364.
30. Schmitt JS, Di Fabio RP. Reliable change and minimum important difference (MID) proportions facilitated group responsiveness comparisonsusing individual threshold criteria.J Clin Epidemiol. 2004;57:1008-1018.
31. Hannafin JA, Chiaia TA. Adhesive capsulitis. A treatment approach. Clin Orthop Relat Res. 2000:95-109
33. Binder AI, Bulgen DY, Hazleman BL, Tudor J, Wraight P. Frozen shoulder: an arthrographic and radionuclear scan assessment. Ann Rheum Dis. 1984;43:365-369.
34. Harryman DT, Sidles JA, Harris SL, Matsen FA. The role of the rotator interval capsule in passive motion and stability of the shoulder. JBJS (Am) 1992; 74:56.
35. Rundquist PJ, Anderson DD, Guanche CA, Ludewig PM. Shoulder kinematics in subjects with frozen shoulder. Arch Phys Med Rehabil. 2003;84:1473-1479
36. Rundquist PA, Ludewig PM. Patterns of motion loff in subjects with idiopathic loss of shoulder range of motion. Clin Biomech 2004; 19:810-8.
37. Bunker T. Time for a new name for frozen shoulder – contracture of the shoulder. Shoulder Elbow 2009; 1:4-9.
38. Hanchard N, Goodchild L, Thompson J, O'Brien T, Davison D, Richardson C. A questionnaire survey of UK physiotherapists on the diagnosis and management of contracted (frozen) shoulder. Physiotherapy 2011; 97:115-25.
40. Yang J et. al, Effectiveness of the end-range mobilization and scapular mobilization approach in a subgroup of subjects with frozen shoulder syndrome: A randomized control trial Manual Therapy, Volume 17, Issue 1, February 2012, Pages 47-52
41. Yang JL, Chang CW, Chen SY, Lin JJ. Shoulder kinematic features using arm elevation and rotation tests for classifying patients with frozen shoulder syndrome who respond to physical therapy. Manual Therapy 2008;13:544-51
42. Michener LA, Walsworth MK, Doukas WC, Murphy KP. Reliability and Diagnostic Accuracy of 5 Physical Examination Tests and Combination of Tests for Subacromial Impingement Arch Phys Med Rehabil 2009;90:1898-903
43. Sanja MR, Mirjana ZS. Ultrasonographic study of the painful shoulder in patients with rheumatoid arthritis and patients with degenerative shoulder disease. Acta Reumatol Port. Jan-Mar 2010;35(1):50-8.
44. Song KD, Kwon JW, Yoon YC, Choi SH. Indirect MR Arthrographic Findings of Adhesive Capsulitis. AJR Am J Roentgenol. Dec 2011;197(6):W1105-9.
45. Carbone S, Napoli A, Gumina S. MRI of adhesive capsulitis of the shoulder: Distension of the bursa in the superior subscapularis recess is a suggestive sign of the pathology. Eur J Radiol. Oct 29 2013;
46. Connell D, Padmanabhan R, Buchbinder R. Adhesive capsulitis: role of MR imaging in differential diagnosis. Eur Radiol. 2002;12:2100-2106
48. Schaffer B, Tibone JE, Kerlan RK. Frozen shoulder: a long-term follow-up. J Bone Joint Surg Am. 1992;74:738–56.
49. Ekelund AL, Rydell N. Combination treatment for adhesive capsulitis of the shoulder. Clin Orthop. 1992;282:105–9.
50. Griggs SM, Ahn A, Green A. Idiopathic adhesive capsulitis: a prospective functional outcome study of non-operative treatment. J Bone Joint Surg Am. 2000;82:1398–407.
51. Placzek JD, Roubal PJ, Freeman DC, Kulig K, Nasser S, Pagett BT. Long-term effectiveness of translational manipulation for adhesive capsulitis. Clin Orthop Relat Res. 1998;356:181–91.
52. Melzer C, Wallny T, Wirth CH, Hoffman S. Frozen shoulder: treatment and results. Arch Orthop Trauma Surg. 1995;114:87–91. doi: 10.1007/BF00422832. m67
53. Diercks RL, Stevens M. Gentle thawing of the frozen shoulder: a prospective study of supervised neglect versus intensive physical therapy in seventy-seven patients with frozen shoulder syndrome followed up for two years. J Shoulder Elbow Surg. 2004;13:499–502. doi: 10.1016/j.jse.2004.03.002.
54. Kelley MJ, McClure PW, Leggin BG. Frozen shoulder: evidence and a proposed model guiding rehabilitation. J Orthop Sports Phys Ther. 2009;39:135-148.
55. Flannery O, Mullett H, Colville J. Adhesive shoulder capsulitis: does the timing of manipulation influence outcome?. Acta Orthop Belg. Feb 2007;73(1):21-5.
56. Vermeulen HM, Rozing PM, Obermann WR, et al. Comparison of high-grade and low-grade mobilization techniques in the management of adhesive capsulitis of the shoulder: randomized controlled trial. Phys Ther. Mar 2006;86(3):355-68.
57. Yang JL, Chang CW, Chen SY, Wang SF, Lin JJ. Mobilization techniques in subjects with frozen shoulder syndrome: a randomized multiple-treatment trial. Physical Therapy 2007;87:1307-15.
58. Bulgen DY, Binder AI, Hazleman BL, Dutton J, Roberts S. Frozen shoulder: prospective clinical study with an evaluation of three treatment regimens. Ann Rheum Dis. 1984;43:353-360.
59. Johnson AJ, Godges JJ, Zimmerman GJ, Ounanian LL. The effect of anterior versus posterior glide joint mobilization on external rotation range of motion in patients with shoulder adhesive capsulitis. J Orthop Sports Phys Ther. 2007;37:88-99.
60. Nicholson GG. The effects of passive joint mobilization on pain and hypomobility associated with adhesive capsulitis of the shoulder. J Orthop Sports Phys Ther. 1985;6:238-246.
61. Vermeulen HM, Obermann WR, Burger BJ, Kok GJ, Rozing PM, van den Ende CH. End-range mobilization techniques in adhesive capsulitis of the shoulder joint: a multiple-subject case report. Phys Ther. 2000;80:1204-1213.
62. Vermeulen HM, Rozing PM, Obermann WR, le Cessie S, Vliet Vlieland TP. Comparison of high-grade and low-grade mobilization techniques in the management of adhesive capsulitis of the shoulder: randomized controlled trial. Phys Ther. 2006;86:355-368.
63. Lin HT, Hsu AT, An KN, Chang Chien JR, Kuan TS, Chang GL. Reliability of stiffness measured in glenohumeral joint and its application to assess the effect of end- range mobilization in subjects with adhesive capsulitis. Manual Therapy 2008; 13:307-16
64. Surenkok O, Aytar A, Baltaci G. Acute effects of scapular mobilization in shoulder dysfunction: a double-blind randomized placebo-controlled trial. Journal of Sports Rehabilitation 2009;18:493-501
65. Yang JL, Chang CW, Chen SY, Lin JJ. Shoulder kinematic features using arm elevation and rotation tests for classifying patients with frozen shoulder syndrome who respond to physical therapy. Manual Therapy 2008;13:544-51
67. Bulgen DY, Binder AI, Hazleman BL, Dutton J, Roberts S. Frozen shoulder: prospective clinical study with an evaluation of three treatment regimens. Ann Rheum Dis. 1984;43:353-360
68. Neviaser AS, Hannafin JA. Adhesive Capsulitis: A Review of Current Treatment. Am J Sports Med. Jan 28 2010;
69. Bal A, Eksioglu E, Gulec B, Aydog E, Gurcay E, Cakci A. Effectiveness of corticosteroid injection in adhesive capsulitis. Clin Rehabil. Jun 2008;22(6):503-12.
70. Saeidian SR, Hemmati AA, Haghighi MH. Pain relieving effect of short-course, pulse prednisolone in managing frozen shoulder. J Pain Palliat Care Pharmacother. 2007;21(1):27-30.
72. Kivima ¨ki, J, Pohjolainen, T. Manipulation Under Anesthesia for Frozen Shoulder With and Without Steroid Injection Arch Phys Med Rehabil 2001;82:1188-90.
74. Ogilvie-Harris DJ, Biggs DJ, Fitsialos DP, MacKay M. The resistant frozen shoulder. Manipulation versus arthroscopic release. Clin Orthop. Oct 1995;(319):238-48.
75. Warner JJ, Allen A, Marks PH, et al. Arthroscopic release for chronic, refractory adhesive capsulitis of the shoulder. J Bone Joint Surg Am. Dec 1996;78(12):1808-16.
76. Warner JJ, Allen AA, Marks PH, et al. Arthroscopic release of postoperative capsular contracture of the shoulder. J Bone Joint Surg Am. Aug 1997;79(8):1151-8.
77. Chen J, Chen S, Li Y, Hua Y, Li H. Is the extended release of the inferior glenohumeral ligament necessary for frozen shoulder?. Arthroscopy. Apr 2010;26(4):529-35.
78. Manske RC, Prohaska D. Diagnosis and management of adhesive capsulitis. Curr Rev Musculoskelet Med. Dec 2008; 1(3-4): 180–189.
79. Hsu J.E., Anakwenze O.A., Warrender W.J., Abboud J.A. Current review of adhesive capsulitis. J Shoulder Elbow Surg. 2011;20:502–514.
80. Murphy FX, Hall MW, D'Amico L, Jensen AM. Chiropractic management of frozen shoulder syndrome using a novel technique: a retrospective case series of 50 patients. Journal of Chiropractic Medicine. 2012;11(4):267-272.
81. Bergman G.J., Winter J.C., Van Tulder M.W., Meyboom-De Jong B., Postema K., Van Der Heijden G.J. Manipulative therapy in addition to usual medical care accelerates recovery of shoulder complaints at higher costs: economic outcomes of a randomized trial. BMC Musculoskelet Disord. 2010;11:200.
82. Brantingham J.W., Cassa T.K., Bonnefin D., Jensen M., Globe G., Hicks M. Manipulative therapy for shoulder pain and disorders: expansion of a systematic review. J Manipulative Physiol Ther. 2011;34(5):314–346.
83. McClatchie L., Laprade J., Martin S., Jaglal S.B., Richardson D., Agur A. Mobilizations of the asymptomatic cervical spine can reduce signs of shoulder dysfunction in adults. Man Ther.2009;14(4):369–374.
84. Mintken P.E., Cleland J.A., Carpenter K.J., Bieniek M.L., Keirns M., Whitman J.M. Some factors predict successful short-term outcomes in individuals with shoulder pain receiving cervicothoracic manipulation: a single-arm trial. Phys Ther. 2010;90(1):26–42.
85. Strunce J.B., Walker M.J., Boyles R.E., Young B.A. The immediate effects of thoracic spine and rib manipulation on subjects with primary complaints of shoulder pain. J Man Manipulative Ther. 2009;17(4):230–236.
86. Hawk C. Systematic Review of Nondrug, Nonsurgical Treatment of Shoulder Conditions. J Manipulative Physiol Ther 2017 Jun ;40(5):293-319
87. Malavolta EA, Gracitelli MEC, Ribeiro Pinto GM, Freire da Silveira AZ, Assunção JH, Ferreira Neto AA. Asian ethnicity: a risk factor for adhesive capsulitis?. Rev Bras Ortop. 2018;53(5):602-606. Published 2018 Feb 23. doi:10.1016/j.rboe.2018.02.004