Carpal Tunnel Syndrome is the most common nerve entrapment in the body, affecting 3-5 percent of the general population.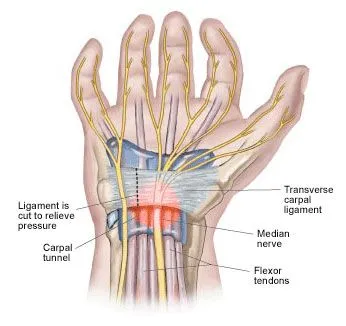 What is Carpal Tunnel Syndrome?
The eight bones of your wrist form a U-shaped channel that houses several tendons and your Median nerve. This channel is called the Carpal Tunnel. Your median nerve is responsible for sensation to palm side of your hand and the first 3 1/2 fingers. Compression or irritation of this nerve as it travels through the carpal tunnel causes the condition known as "Carpal Tunnel Syndrome." Carpal Tunnel Syndrome can be brought on by prolonged wrist flexion or bending, and/or repetitive wrist movements like supermarket scanning, keyboard use, carpentry or assembly line work. Carpal tunnel syndrome is more common in your dominant hand but sometimes affects both hands.
Symptoms
Symptoms of Carpal Tunnel Syndrome include numbness, tingling or discomfort on the palm side of your thumb, index, and half of your middle finger. The discomfort can sometimes extend towards your elbow. Symptoms usually begin as nighttime discomfort or waking up with numb hands but can progress to a constant annoyance.
How we can help
Getting you back to normal as soon as possible is our number one goal. To do that, we will likely recommend one or more of the following:
Joint Manipulation/mobilization: to gently restore motion to any "restricted" joints in your hands.
Soft tissue therapy: to release muscle tightness and soft tissue adhesions. This can be done two different ways:

A.R.T: Active Release Technique:

Hands-on active movement of a muscle throughout it's range with doctor applied force over adhesions

I.A.S.T.M: Instrument Assisted Soft Tissue Mobilization:

Incorporating an instrument to help "scrape" the soft tissue and fascial adhesions

Kinesiology taping: to support and reduce pressure on the carpal tunnel

Therapeutic stretching and nerve flossing: to restore flexibility and ease pain
Bracing may also be recommended
If you or someone you know is experiencing these symptoms, please contact our office to schedule an appointment.

At Creekside Chiropractic & Performance Center, we are highly trained to treat this condition. We are the only inter-disciplinary clinic in Sheboygan county that provides chiropractic, myofascial release, ART (Active Release Technique), massage therapy, acupuncture, physiotherapy, rehabilitative exercise, nutritional counseling, personal training, and golf performance training under one roof. Utilizing these different services, we can help patients and clients reach the best outcomes and the best versions of themselves. Voted Best Chiropractor in Sheboygan by the Sheboygan Press.
Patient-Centered, Evidence-Based, Outcome-Focused