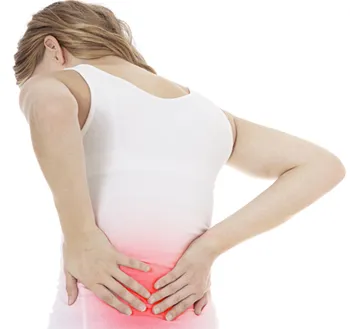 Many of our patients we see have low back pain. In fact, it is the number one reason for people to seek out a chiropractor. Research shows that 80 percent of adults will have back pain in their life, and 38 percent of adults will have back pain this year. Lower back pain is the costliest non-life threatening condition and the most common source of disability in workers under the age of 40.
Our spine is made up of 33 vertebrae, with the bottom five vertebrae (lumbar L1-L5) supporting much of the weight of the upper body. The space between the vertebrae are maintained by circular, rubbery shock-absorbing pads called intervertebral discs. These act as cushions throughout the spine as the body moves. Ligaments hold the vertebrae in place, and tendons attach the muscles to our spinal column, allowing us to move. Thirty-one pairs of nerves are rooted to the spinal cord and control signals to and from the brain.
Most back pain can be grouped into one category: mechanical back pain. This refers to the pain coming from our joints, discs, bones, or muscles. As chiropractors, we are trained to determine the cause of your back pain and treat you accordingly.
There are many different causes of mechanical low back pain. Below are the top 10 causes of low back pain seen in our office. A thorough history and examination gives us the best chance of determining your problem and giving you options to treat the issue. Click on each condition to learn more!
If you are experiencing upper back pain, click the link to learn more about that condition.
At Creekside Chiropractic & Performance Center, we are highly trained to treat each of these conditions. We are the only inter-disciplinary clinic providing services to Sheboygan, Sheboygan Falls, Plymouth, and Oostburg including chiropractic, manual therapy, myofascial release, ART (Active Release Technique), massage therapy, acupuncture, physiotherapy, rehabilitative exercise, nutritional counseling, personal training, and golf performance training under one roof. Utilizing these different services, we can help patients and clients reach the best outcomes and the best versions of themselves.

Evidence Based-Patient Centered-Outcome Focused