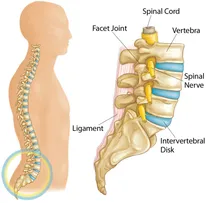 What is a lumbar disc?

Lumbar discs are the cushions between each bone. They act as shock absorbers to the spine, and are capable of withstanding very high compressive loads. These discs can be thought of like a jelly filled donut, with firm outside and a soft gooey middle. The outside layers are called the annulus, which is made up of many layers of circular rings. The middle is called the nucleus, and has about the same consistency as gelatin.
What is a disc injury?

A disc injury refers to a disruption of the annular fibers and displacement of material in the disc. This may result in radicular symptoms in your butt, thigh, leg, and foot from inflammation and chemical irritation or true mechanical compression of the nerve roots. Ensuing symptoms include pain, paresthesia, numbness or weakness in the distribution of the affected nerve root(s). This is also called a disc herniation and can be called a "slipped disc," although slipped disc is not the proper terminology.
What are the risk factors for a disc injury?
Multiple factors contribute to the development of lumbar disc injury. Repetitive mechanical stressors like compressive loading, shear stress, and vibration weaken the annular fibers, eventually leading to disruption. Only the outermost portion of the discs are innervated, so early disruption may be asymptomatic and non-painful.
Mechanical risk factors related to the development of a lumbar disc injury include: sedentary lifestyle or occupation, driving motorized vehicles, vibration, smoking, previous full-term pregnancy, increased BMI, increased sacral base angle, and a tall stature (1,2).
Genetic factors and aging also play a role in disc injury. Aging is accompanied by degradation of the disc structure, making it more vulnerable to injury. However, degradation also causes dehydration, meaning less nuclear material is available to herniate.
Prevalence of disc lesions:
Symptomatic disc herniation has a peak incidence between 40-50 years old. The condition is uncommon in children (3). Approximately 35-45% of adults will experience a disc lesion at some point in their lifetime and the condition is more common in men (4). Most disc lesions fit into the directional preference category of "extension biased", meaning that they are alleviated by extension positions including standing, walking or lying prone, but are aggravated by flexed positions like sitting, driving or bending.
Where are disc lesions typically located?
Over 90% of disc lesions occur at lumbar levels L4/5 or L5/S1, with L5/S1 being most prevalent (5).
Is it possible to have a disc lesion and not know it?
Asymptomatic (non-painful) disc herniations are present in 20-36% of the adult population (6).
Do they always produce symptoms down the thigh or leg?
Not always! Lesions without mechanical compression may produce only local discomfort and pain in the low back area.
Do I need an x-ray or MRI?
A radicular complaint in the lower extremity does not necessarily require radiographic work-up. Radiographs are appropriate for patients with "red flags" including a history of cancer, fever, chills, recent unexplained weight loss, immunosuppression, corticosteroid use, symptoms greater than 6 weeks, or progressive neurological deficit. Plain films can rule out bony sources of encroachment, although disc lesion patients often show radiographic evidence of age-related degenerative change (7). MRI is the test of choice for identifying specific annular tears and disc herniations (8). Typically, we are able to diagnose the issue based on a proper history and examination and treat accordingly without an x-ray or MRI, saving patients both time and money.
Conservative care outcomes:
Disc herniation with radiculopathy may be successfully managed via conservative treatment (9). In fact, the majority of disc herniations will reduce over time with non-surgical care. (10,11,12) Large "herniations" trigger a significant inflammatory response and generally regress more quickly. (12,13,14,15) The relatively avascular anatomy of the intervertebral disc may prolong recovery times. Nonsurgical management of disc lesions have similar outcomes, regardless of the age of the patient (16).
Data supports the effectiveness of manipulation for lumbar disc lesions. Existing research suggests some early benefit to using spinal manipulation and minimal risk when applied by a trained practitioner (17,18,19). Spinal manipulation produced results equal to surgical decompression in 60% patients who had failed earlier medical management.
Average outcomes for chiropractic patients, regardless of pain location, were significantly better than those of a general practitioner's at 2 weeks (74% vs 36%), 3 months (82% vs. 60%), and 12 months (73% vs. 54%) (20).
Treatments we may provide for this issue at Creekside:
Spinal manipulation
Sciatic nerve flossing (21)
Myofascial release to lumbar spine and hip muscles such as quadratus lumborum, lumbar erectors, psoas, piriformis, gluteus, and TFL
Icing may help alleviate symptoms
Interferential electrotherapy may help alleviate symptoms in the short term, but isn't recommended for long term use
In office and at home exercises:
As part of your treatment plan, we may recommend performing some at home exercises to help reduce the pain now, and improve stability and control so that this issue does not occur again in the future. Mobility exercises like cat-camel, McKenzie extensions, or Williams flexion exercises may be recommended. Stability exercises such as bird dogs, dead bugs, plank, and side bridges, are often helpful in reducing future reoccurrences (22).
Goals of treatment:
The goal of conservative management should be to centralize symptoms, reduce pain & inflammation, decrease mechanical compression and improve functional core stability.
Emergency situation to be aware of:
Typically, this condition is self limiting and do not require medical intervention, however, the presence of cauda equina symptoms (numbness or tingling in a saddle-like distribution, incontinence, difficulty with urination, impotence, or bilateral radicular signs or symptoms) IS a medical emergency requiring immediate medical attention.
At Creekside Chiropractic & Performance Center, we are highly trained to treat a lumbar disc injury. We are the only inter-disciplinary clinic in Sheboygan county that provides chiropractic, myofascial release, ART (Active Release Technique), massage therapy, acupuncture, physiotherapy, rehabilitative exercise, nutritional counseling, personal training, and golf performance training under one roof. Utilizing these different services, we can help patients and clients reach the best outcomes and the best versions of themselves. Voted Best Chiropractor in Sheboygan by the Sheboygan Press.
Evidence Based-Patient Centered-Outcome Focused
Sources:
1.Nachemson AL: Prevention of chronic back pain. The orthopaedic challenge for the 80's. Bull Hosp Jt Dis Orthop Inst 44:1-15, 1984
2.Sapiee NH et al.Sagittal Alignment with Downward Slope of the Lower Lumbar Motion Segment Influences its Modes of Failure in Direct Compression: A Mechanical and Microstructural Investigation. Spine (Phila Pa 1976). 2019 Feb 25. doi: 10.1097/BRS.000000000
3.Hoffman HJ: Childhood and adolescent lumbar pain: differential diagnosis and management. Clin Neurosurg 1980; 27:553-576
4.Hurwitz EL, Shekelle P. Epidemiology of low back syndromes. In: Morris CE, editor. Low back syndromes: integrated clinical management. New York: McGraw-Hill; 2006. p. 83-118.
5.Frymoyer JW. Back pain and sciatica. N Engl J Med 1988;318: 291-300.
6.Boden SC, Davis DO, Dina TS, Patronas NJ, Wiesel SW. Abnormal magnetic-resonance scans of the lumbar spine in asymptomatic subjects: A prospective investigation. J Bone Joint Surg Am. 1990; 72: 403-408
7.Bell GR, Ross JS. Diagnosis of nerve root compression. Myelography, computed tomography, and MRI. Orthop Clin North Am. 1992;23:405–19
8.Roudsari, B., & Jarvik, J.G. (2010). Lumbar spine MRI for low back pain; Indications and yield. American Journal of Roentgenology, 195(3), 550-559
9.Saal JA, Saal JS: Nonoperative treatment of herniated lumbar intervertebral disc with radiculopathy an outcome study. Spine 1989; 14:431-436
10.Chiu CC, Chuang TY, Chang KH, Wu CH, Lin PW, Hsu WY. The probability of spontaneous regression of lumbar herniated disc: a systematic review. Clin Rehabil. 2015 Feb;29(2):184-95.
11.Zhong M, Liu JT, Jiang H, Mo W, Yu PF, Li XC, Xue RR. Incidence of Spontaneous Resorption of Lumbar Disc Herniation: A Meta-Analysis. Pain Physician. 2017;20(1):E45–E52.
12.El-Kholy AR et al. Spontaneous resorption of Herniated Lumbar Disc "observational retrospective study in 9 patients". World Neurosurg. 2019 Jan 2. pii: S1878-8750(18)32938-3. doi: 10.1016/j.wneu.2018.12.115. [Epub ahead of print]
13.Morgan W. Management of Lumbar Disc Derangements. Presentation at the 2015 American College of Chiropractic Orthopedists Convention. Las Vegas NV April 25, 2015.
14.Chiu CC, Chuang TY, Chang KH, Wu CH, Lin PW, Hsu WY. The probability of spontaneous regression of lumbar herniated disc: a systematic review. Clin Rehabil. 2015 Feb;29(2):184-95.
15.Kjaer P, Tunset A, Boyle E, Jensen TS. Progression of lumbar disc herniations over an eight-year period in a group of adult Danes from the general population – a longitudinal MRI study using quantitative measures. BMC Musculoskeletal Disorders. 2016;17:26. doi:10.1186/s12891-016-0865-6.
16.Pradeep Suri, MD, David J. Hunter, MBBS, PhD, Cristin Jouve, MD, Carol Hartigan, MD, Janet Limke,MD, Enrique Pena, MD, Ling Li, MPH, Jennifer Luz, BA, James Rainville,MD. Nonsurgical Treatment of Lumbar Disk Herniation Are Outcomes Different in Older Adults? Journal of the American Geriatrics Society J Am Geriatr Soc. 2011;59(3):423-429
17.Mo, Zhuomao et al. Comparison Between Oblique Pulling Spinal Manipulation and Other Treatments for Lumbar Disc Herniation: A Systematic Review and Meta-Analysis. Journal of Manipulative & Physiological Therapeutics , Volume 41 , Issue 9 , 771 - 779.
18.Snelling NJ, Spinal manipulation in patients with disc herniation: A critical review of risk and benefit. International Journal of Osteopathic Medicine
19.Francio VT et al. Spinal manipulation and therapeutic exercises in treating post-surgical resurgent lumbar radiculopathy Oxford Medical Case Reports, Volume 2017, Issue 10, 1 October 2017
20.Hartvigsen L. et al. Leg pain location and neurological signs relate to outcomes in primary care patients with low back pain. BMC Musculoskeletal Disorders 2017, 18:133
21.Butler DS. The sensitive nervous system. Adelaide, Australia: Noigroup Publications; 2000