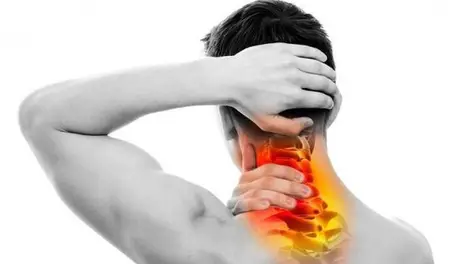 Are headaches a concern? Click HERE to visit our information on headaches.

Is jaw pain a concern? Click HERE to visit our page on jaw pain, or TMJ dysfunction.
Neck Pain

Neck pain is the second most common issue that we see at the Creekside Chiropractic & Performance Center, with low back pain being the most common. Medical providers see over 10 million visits per year as a result of neck pain (1). Fifty (50) percent of people will have significant neck pain in their life, with 13 percent of people experiencing symptoms at any given time (2,3). Neck pain is second only to low back pain as a cause of lost workdays and in some industries the two conditions have similar rates of absenteeism (4). Neck pain may have greater chronicity than low back pain. (5). Neck pain is more common in women than men(6). A specific medical diagnosis is absent in 50-80% of neck pain patients, supporting the hypothesis that a musculoskeletal dysfunction is the most common cause of this problem (7). At Creekside Performance Center, we are experts in determining the source of your neck pain, correcting it, and getting you back to living the life you want. We utilize an evidence-based, patient-centered approach in treating neck and head pain. Below you will see the top nine causes of neck pain. Click each to learn more about the condition, treatment options, and self management tips.
Cervical Joint Restriction is an extremely common diagnosis and is a component of almost all neck pain. It can be present by itself, but it is also commonly present with other types of mechanical dysfunction in the neck such as disc bulge, radiculopathy (tingling in arms or hands), and degeneration or arthritis.
Toriticollis, sometimes called "wry neck" is caused by involuntary, single sided contraction of the neck and upper back muscles, particularly the SCM and trapezius. This results in side bending and rotation of the neck that is difficult to move.
Cervical sprain/strains are a common cause of neck pain, typically after some form of trauma. Sprains are caused by over-stretching or tearing ligaments, and strains are tears in tendon or muscle. Both can occur from twisting or lifting something improperly, whiplash injuries, sports injuries, hits to the head, and many other injuries.
Cervical whiplash, also known as a cervical hyper-flexion/hyper-extension injury, or Cervical Acceleration Deceleration (CAD) is a common cause of neck pain. Current literature suggests that up to 83% of individuals involved in a motor vehicle accident (MVA) suffer a whiplash injury (8).
Cervical disc injury, also known as a disc herniation or bulge, can occur when the intervertebral discs become compressed and push outward, which in turn can compress, inflame, and irritate a spinal nerve root. Irritation to the nerve root results in pain, numbness, or a tingling sensation that can travel or radiate to the shoulders, arms, or fingers.
Cervical degeneration, or spondylosis, describes age-related spinal degenerative changes, eventually causing nerve root irritation and/ or compression, resulting in radicular signs and symptoms into the shoulders, arms, and/or hands. Advanced degeneration can develop into cervical spinal stenosis.
Cervical radiculopathy describes irritation to the nerve roots in the neck area, causing symptoms of tingling, pins and needles, and numbness into one or both shoulders and arms and possibly hands. Radiculopathies are typically caused by an injured disc, degeneration (arthritis), or stenosis (narrowing of the spinal canal).
TMJ (TemporoMandibular Joint) dysfunction refers to a complex group of muscular and articular disorders affecting the TMJ. This leads to jaw pain, dysfunction and eventually degeneration. TMJ dysfunction and TMJ pain is commonly called TMJD for short.
At Creekside Chiropractic Performance Center, we are highly trained to treat each of these conditions. We are the only inter-disciplinary clinic providing services to Sheboygan, Sheboygan Falls, Plymouth, and Oostburg including chiropractic, manual therapy, myofascial release, ART (Active Release Technique), massage therapy, acupuncture, physiotherapy, rehabilitative exercise, nutritional counseling, personal training, and golf performance training under one roof. Utilizing these different services, we can help patients and clients reach the best outcomes and the best versions of themselves. Voted Best Chiropractor in Sheboygan by the Sheboygan Press.
Evidence Based-Patient Centered-Outcome Focused
Sources:
DL Riddle, SM Schappert Volume and characteristics of inpatient and ambulatory medical care for neck pain in the United States: data from three national surveys Spine, 32 (2007), pp. 132–140
Bovim G, Schrader H, Sand T. Neck pain in the general population. Spine 1994;19:1307–9,
Hult L. Cervical, dorsal and lumbar spinal syndromes. Acta Orthop Scand 1954;17(suppl):175–277.
Kvarnstrom S. Occurrence of musculoskeletal disorders in a manufacturing industry with special attention to occupational shoulder disorders. Scand J Rehabil Med 1983;8(suppl):1–114.
Cleland JA, Childs JD, McRae M, Palmer JA, Stowell T. Immediate effects of thoracic manipulation in patients with neck pain: A randomized clinical trial. Man Ther. 2005;10:127–135.
Grimby-Ekman A, University of Gothenburg, Stress and neck pain are more common in women than men. ScienceDaily 2010:December 6.
Hush JM, Maher CG, Refshauge KM. Risk factors for neck pain in office workers: A prospective study. BMC Musculoskelet Disord. 2006;7:81.
Nolet PS, Pierre C, Cassidy JD, Carroll LJ, (2010) The association between a lifetime history of neck injury in a motor vehicle collision and future neck pain: a population-based cohort study. Eur Spine J 19:972-981