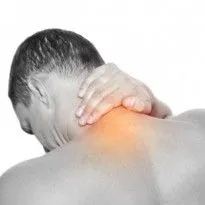 Cervical Sprain/Strain
Sprain refers to damage to ligaments. Ligaments serve as the primary "static" stabilizer and act to limit end range of motion. Forces causing movement beyond the normal range of motion can damage ligaments. There are numerous ligaments in the neck that could be injured.
Strain refers to damage to muscles. Muscles act as a "dynamic" stabilizer, protecting the cervical spine throughout its normal range of motion. Strains often result from an eccentric muscular contraction in response to an unexpected external force. (1,2) Stressors that cause sustained or overwhelming muscular contraction could damage the cervical muscles. Muscle strains are more common where the muscle meets the tendon (3,4).
Causes of sprain/strain injuries:
Sprain/strain injuries may result from a single traumatic event or chronic repetitive mechanical overloading.
Whiplash injuries are the leading cause of acute cervical sprain/strains, followed by sporting accidents (5,6)
Athletes are at highest risk when playing contact sports like football, hockey or wrestling, or performing high-speed activities like skiing. (7)
Sporting injuries often occur as the result of a blow to the head while the athlete is moving forward, resulting in an extension injury.
Activities of daily living like pushing, pulling, moving heavy objects and falls are also frequently associated with acute cervical soft tissue injury.
Stressors applied over an extended period can lead to muscle fatigue, inflammation, and micro-tearing. Less acute origins of cervical soft tissue injury include:

prolonged static postures in poor workstations
overhead activity
poor bra support
sedentary lifestyles
repetitive movements
pregnancy
obesity.
Predisposing factors:
Weakness of the cervical musculature, particularly the deep neck flexors, may be a predisposing factor to injury. Other predisposing factors include previous sprain/strain injury, which decreases the tissue elasticity.
Prevalence:
Over one million US adults suffer cervical sprain/strain from whiplash injury alone each year. (9)
Gender prevalence is also difficult to pinpoint, but research has shown that both neck pain and sprains from whiplash-type injuries are more common in females. (9,10,11,13)
Cervical sprains and strains affect all age groups.
While adult tissue may be less elastic and more prone to injury, children are at an elevated risk for sprain/strain (12)
Symptoms:
May begin abruptly but more commonly develop gradually in the hours or days following an insult.
Complaints often include constant dull neck pain that intensifies or becomes sharp with movement.
Rest may relieve acute symptoms but often leads to inactivity-stiffness. The pain is generally limited to the cervical spine and trapezius but may sometimes refer to the anterior neck and upper arm.
Suboccipital tension-type headaches are common, particularly when the upper cervical spine is involved.
Injury to the upper cervical facet capsules can cause altered proprioceptive input and result in varying degrees of vertigo.
Additional symptoms may be generated from concurrent muscular spasm or overlapping myofascial involvement.
Do I need X-rays?
Clinicians may need cervical radiographs, including flexion-extension views, to rule out fracture or instability (16).
The American College of Radiology suggests imaging post-traumatic neck pain when there is a dangerous mechanism of injury.
High-risk candidates include those who (17):

are over 65 years of age
have radiating neurologic signs or symptoms
have midline cervical spine tenderness
have significant (greater than 50%) loss of range of motion
Treatment:
Initial goals of treatment include controlling pain and inflammation.
Treatment options during initial treatment:
Ice, electrical stimulation, ultrasound, and NSAIDs can assist the healing process and help with pain and inflammation control.
Gentle range of motion exercises and isometric strengthening should be implemented to tolerance in the acute phase of healing.
Poor treatment options:
In the absence of documented instability, immobilization leads to de-conditioning/atrophy and is rarely indicated. (23,24)
The second goal of treatment is the restoration of normal mobility and joint function.
Spinal manipulation is a valuable tool for the restoration of normal joint mechanics in sprain/strain injuries. (25)

Myofascial release and stretching exercises may be needed for the scalene, trapezius, levator, pectoral, SCM and other neck muscles.
Nerve mobilization techniques may be necessary to restore normal neurodynamics.
Restrictions in the upper thoracic spine are common in cervical pain patients and need to be addressed. (15)
The final phase of treatment, stabilization, will include home exercises to increase strength and decrease the chance of re-injury.

Exercises should focus on activating the deep neck flexor muscles in chronic neck pain patients (27).
Upper crossed syndrome is a common counterpart to chronic sprain/strain injuries and should be identified and managed.
Ergonomic and postural training may include a discussion of workstation ergonomics, sleep posture and modification of activities of daily living to promote healing and prevent recurrence of symptoms. (28)
At Creekside Performance Center, we are highly trained to treat this condition. We are the only inter-disciplinary clinic in Sheboygan county that provides chiropractic, myofascial release, ART (Active Release Technique), massage therapy, acupuncture, physiotherapy, rehabilitative exercise, nutritional counseling, personal training, and golf performance training under one roof. Utilizing these different services, we can help patients and clients reach the best outcomes and the best versions of themselves. Voted Best Chiropractor in Sheboygan by the Sheboygan Press.
Evidence Based-Patient Centered-Outcome Focused

Sources:
1. Zmurko MG, Tannoury TY, Tannoury CA, Anderson DG. Cervical sprains, disc herniations, minor fractures, and other cervical injuries in the athlete. Clin Sports Med. 2003 Jul;22(3):513-21.
2. Dorshimer GW, Kelly M. Cervical pain in the athlete: Common conditions and treatment. Prim Care. 2005 Mar;32(1):231- 43.
3. Jarvinen TA, Kaariainen M, Jarvinen M, Kalimo H. Muscle strain injuries. Curr Opin Rheumatol 2000 Mar;12(2):155- 61.
4. Zmurko MG et al. Clin Sports Med 22 (2003) 513–521.
5. Versteegen GJ, Kingma J, Meigler WJ, et al. Neck sprain not arising from car accidents: a retrospective study covering 25 years. Eur Spine J 1998;7(3):201–5.
6. Reid DC, Sabow L. Spine fractures in winter sports. Sports Med 1989;7(6):393–9.
7. www. mdguidelines.com/sprains-and-strains-cervical-spine-neck. September 2013.
8. Bovim G, Schrader H, Sand T. Neck pain in the general population. Spine 1994;19:1307-9.
9. Hunter, Oregon K. "Cervical Sprain and Strain." eMedicine. Eds. Martin K. Childers, et al. 29 May. 2008. Medscape. 18 Mar. 2009.
10. Guez M, Hildingsson C, Nilsson M, Toolanen G. The prevalence of neck pain. A population-based study from northern Sweden. Acta Orthop Scand 2002;73:455-9.
11. Hogg-Johnson S, van der Velde G, Carroll LJ, Holm LW, Cassidy JD, Guzman J, Côté P, Haldeman S, Ammendolia C, Carragee E, Hurwitz E, Nordin M, Peloso PM (2008) The burden and determinants of neck pain in the general population: results of the Bone and Joint Decade 2000–2010 Task Force on Neck Pain. Spine 33(Suppl):S39–S51.
12. McGrory BJ, Klassen RA, Chao EY, et al. Acute fractures and dislocations of the cervical spine in children and adolescents. J Bone Joint Surg Am 1993;75(7):988–95.
13. Dufton JA et al, (2006) Prognostic factors associated with minimal improvement following acute whiplash associated disorders. Spine 31:E759-65.
14. Jull G.A., Falla D., Vicenzino B., Hodges P.W.; The effect of therapeutic exercise on activation of the deep cervical flexor muscles in people with chronic neck pain; Elsevier; 2009.
15. Childs, JA et al. Clinical Practice Guidelines Linked to the International Classification of Functioning, Disability, and Health From the Orthopaedic Section of the American Physical Therapy AssociationJ Orthop Sports Phys Ther 2008;38(9):A1-A34.
16. Zmurko MG, et al. Cervical sprains, disc herniations, minor fractures, and other cervical injuries in the athlete Clin Sports Med 22 (2003) 513–521.
17. Stiell IG, Wells GA, The Canadian C-Spine Rule for Radiography in Alert and Stable Trauma Patients JAMA October 17, 2001, Vol 286, No.15
18. Webb JK, Broughton RB, MeSweeney T, et al. Hidden flexion injury of the cervical spine. J Bone Joint Surg Br 1976;58(3):322–7.
19. White 3rd AA, Panjabi MM, Posner I, et al. Spinal stability: evaluation and treatment.
20. Garrett Jr WE. Muscle strain injuries. Am J Sports Med 1996;24(6S):S2–8.
21. Croft PR, Lewis M, Papageorgiou AC, et al. Risk factors for neck pain: a longitudinal study in the general population. Pain. Sep 2001;93(3):317-25.
22. Mankin HI. Clinical features of osteoarthritis In: Textbook of rheumatology, 3rd ed. Philadelphia: Saunders, 1989:1480-1500.
23. Jarvinen TA, Kaariainen M, Jarvinen M, et al. Muscle strain injuries. Curr Opin Rheumatol 2000;12:155–61.
24. Verhagen, A. P., et al. "Conservative Treatments for Whiplash." Cochrane Database System Review 1 (2004): CD003338. National Center for Biotechnology Information. National Library of Medicine. 18 Mar. 2009.
25. Hurwitz EL, Aker PD, Adams AH, et al. Manipulation and mobilization of the cervical spine. A systematic review of the literature. Spine. Aug 1 1996;21(15):1746-59; discussion 1759-60.
27. Chiu TT, Lam TH, Hedley AJ. A randomized controlled trial on the efficacy of exercise for patients with chronic neck pain. Spine. Jan 1 2005;30(1):E1-7.
28. Weinhardt, C., and K. D. Heller. "A Systematic of the Value of Physical Therapy in Whiplash Neck Injury." Z Orthop Ihre Grenzgeb. 140 5 (2002): 499-502. National Center for Biotechnology Information. National Library of Medicine. 18 Feb. 2009.
29. Bogduk, N.; Marsland, A. "The Cervical Zygapophysial Joints as a Source of Neck Pain," Spine 13:610, 1988.
30. Herkowitz HN, Rothman RH. Subacute instability of the cervical spine. Spine 1984;9(4): 348 – 57. 31. Dion, Sarah et al. Criteria to Screen for Traumatic Cervical Spine Instability: A Consensus of Chiropractic Radiologists. Journal of Manipulative & Physiological Therapeutics, Volume 41 , Issue 2 , 156 – 163.
32. Sierink JC, van Lieshout WA, Beenen LF, Schep NW, Vandertop WP, Goslings JC. Systematic review of flexion/ extension radiography of the cervical spine in trauma patients. Eur J Radiol. 2013;82(6):974-981.
33. Sim V, Bernstein MP, Frangos SG, et al. The (f)utility of flexion-extension C-spine films in the setting of trauma. Am J Surg. 2013;206(6):929-934.
34. Daffner RH, Weissman BN, Wippold FJ, et al. Expert Panels on Musculoskeletal and Neurologic Imaging, ACR Appropriateness Criteria Suspected Spine Trauma. Reston, VA: American College of Radiology; 2012:20.