Torticollis
There are four basic forms of torticollis:
1. Congenital torticollisis usually caused by fibrotic adhesions or a lesion in the SCM. The condition is recognized at birth or shortly thereafter. This may be related to muscular trauma during delivery. Congenital torticollis may also result from vertebral deformities like Klippel-feil or hemi-vertebra. An evidence based protocol for congenital muscular torticollis is available from Cincinnati Children's Hospital (1).
2. Acquired torticollisarises post-trauma or in response to an adjacent inflammatory process. Osteomyelitis, lymphadenitis, pharyngitis, tonsillitis, cervical abscess, tumors and RA can trigger acquired torticollis. Acquired torticollis may also be from partial dislocation of C1 on C2.
3. Spasmodic torticollis, also called Cervical Dystonia, is of unknown etiology and is characterized by a painful progressive involuntary contraction of the SCM. This spasm may be sustained or recurrent. Cervical dystonia is a neurologic movement disorder that may have a genetic link and is thought to be a "faulty guarding mechanism".
4. Acute torticollisis a common benign condition, affecting younger and middle aged patients. Onset is typically sudden, often presenting upon arising. Symptoms are generally self-resolving in days to weeks. The remainder of this page will focus on acute torticollis.
Causes of Acute Torticollis:
The condition is thought to be precipitated by a minor traumatic insult like sleeping in an awkward position, or sleeping under a draft from an open window or fan. Patients will sometime report a history of unusual or strenuous activity the day before, i.e. new exercises, travel, prolonged head rotation during a movie, etc.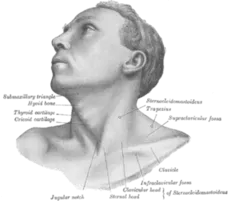 Symptoms of Acute Torticollis:
Torticollis is defined by a characteristically painful, fixed posture of lateral flexion and contralateral rotation. Movement is painful to unbearable. Sleep is sometimes disturbed. Symptoms in the shoulders and upper back may accompany local pain and spasm.
Are X-Rays Necessary?
Radiographs may be unnecessary but are indicated with a history of trauma or in the presence of "red flags". Radiologists may encounter some difficulty positioning patients and interpreting radiographs due to the antalgic cervical posture.
Other facts:
The finding of "torticollis" is descriptive but not diagnostic. It is a clinical sign of another condition- some benign, others quite threatening. Nearly 80 entities have been associated with the diagnosis of torticollis. Infections may cause lymph gland inflammation and reactive muscular spasm (osteomyelitis, meningitis, pharyngitis, sinusitis, etc). Additional threatening triggers include: fracture, neoplasm, atlanto-axial instability (common in Down's syndrome).
Certain drugs are thought to precipitate torticollis (dopamine blockers, ketamine, amphetamines, cocaine, compazine, haldol and thorazine) (2). "Red flag" symptoms for torticollis include: fever, swollen lymph nodes, significant headache, difficulty breathing, swallowing or speaking, ataxia, weakness, numbness or parasthesia in the extremities, and change in bowel or bladder function. Seek medical attention immediately if you show signs of these.
Treatment options:
Reduction of muscle spasm will likely need to precede any attempt at manipulation.
Spinal manipulation, when not contraindicated, should be implemented as soon as tolerable.
Modalities that may be useful (4,5):

Ice
Heat
Continuous ultrasound
Electrical stimulation
Cervical traction
Myofascial release should be applied to SCM, trapezius, levator and any other associated neck muscles.
Traditional stretching may prove difficult initially as this movement will not likely be appreciated.

As the condition improves, in-office and home stretching may be added for the SCM, trapezius, levator and any other involved muscles.
At Home Care:
Patients should avoid sleeping on their stomach or in drafty conditions.
NSAIDS and counterirritant creams may provide palliative benefit.
Properly supporting the neck with a pillow is recommended
At Creekside Chiropractic & Performance Center, we are highly trained to treat this condition. We are the only inter-disciplinary clinic in Sheboygan county that provides chiropractic, myofascial release, ART (Active Release Technique), massage therapy, acupuncture, physiotherapy, rehabilitative exercise, nutritional counseling, personal training, and golf performance training under one roof. Utilizing these different services, we can help patients and clients reach the best outcomes and the best versions of themselves. Voted Best Chiropractor in Sheboygan by the Sheboygan Press.
Evidence Based-Patient Centered-Outcome Focused