Lower Crossed Syndrome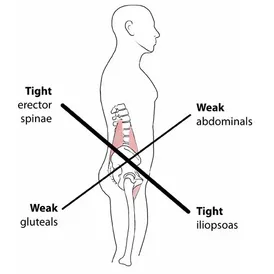 Lower Crossed Syndrome, or "Lower X syndrome" was first described in 1979 as a predictable pattern of alternating tightness and weakness involving core & pelvic musculature. (1) The condition frequently contributes to back pain and is associated with diagnoses throughout the lower body.
The process typically begins when a muscle or muscle group is overused in a certain direction and becomes shorter and tighter. The opposing muscles are subject to prolonged stretch and tend to become longer and weaker (5).
Predominant findings in lower crossed syndrome (13-17):
Overactive lumbar erectors
Overactive hip flexors (iliopsoas and rectus femoris)
Underactive glutes (gluteus maximus, gluteus medius, gluteus minimus)
Underactive abdominals
Synergistic hyperactivity can occur in the hamstrings, piriformis, quadratus lumborum, tensor fascia lata (TFL), and calf muscles including the gastrocnemius and soleus
Joint dysfunction may arise secondary to muscular imbalance, most commonly involving the L4/5, L5/S1, S.I, and hip joints (3,6, 8-10,18).
Management of lower crossed syndrome should first attempt to eliminate abnormal proprioceptive input through joint mobilization and myofascial release. (17) Rehab then progresses sequentially through stretching, strengthening, and finally, facilitation of normal movement patterns. (3)
Along with Chiropractic, Creekside Chiropractic & Performance Center has massage therapy, physical therapy, rehabilitation exercises, acupuncture, 1:1 personal training, small group training, and nutrition experts to help you get to a better, healthier you. Voted Best Chiropractor in Sheboygan by the Sheboygan Press.
Evidence Based-Patient Centered-Outcome Focused
References
1. Page P., Frank C.C., Lardner R., Assessment and treatment of muscle imbalance: The Janda Approach 2010, Champaign, IL: Human Kinetics
2. Tunnell, P. Journal of Bodywork and Movement Therapies. 1996;1(1), 21.
3. Janda, V., 1987. Muscles and motor control in low back pain: assessment and management. In: Twomey, L.T. (Ed.), Physical Therapy of the Low Back. Churchill Livingstone, New York, pp. 253–278.
4. Janda Syndromes. www.jandaapproach.com accessed 8/19.2014
5. Kendall F, McCreary E, Et. al. Muscles. Testing and Function with Posture and Pain. Baltimore MD: Lippincott, Williams & Wilkins. 2005;5th ed
6. Janda compendium. Vol II. Minneapolis: O.P.T.P., p. 7-13
7. Liebenson C. Rehabilitation of the Spine: A Practitioner's Manual. Baltimore: Williams and Wilkins, 1996; 97–112,196
8. Lewit K. The functional approach. J Orthopedic Medicine 1994; 15:73–74.
9. Key, J., Clift, A., Condie, F., Et.al. Journal of Bodywork and Movement Therapies. 2008;12,113.
10. Tunnell, P. Journal of Bodywork and Movement Therapies. 1996;1(1), 21
11. Page, P. Muscle imbalances in older adults: improving posture and decreasing pain. The Journal on Active Aging. 2005;3:30
12. Hodges PW, Richardson CA. Delayed Postural Contraction of the Transverse Abdominus Associated with Movement of the Lower Limb in People with Low Back Pain. J Spinal Disorders. 1998; 11:46-56
13. Warren Hammer 2005: Functional Soft Tissue Examination and Treatment by manual Methods ISBN 0763727679.
14. Perry Nickelston Lower Crossed Syndrome and Knee Pain Dynamic Chiropractic – May 21, 2007, Vol. 25, Issue 11
15. Murphy DR. Conservative management of cervical spine syndromes. McGraw Hill Company, Inc, 2000. p. 107-12.
16. Lewit K. Manipulative therapy in the rehabilitation of the locomotor system. 2nd ed. Oxford: Butterworth-Heinemann, 1991. p. 79-80
17. Jull G. Janda V: Muscles and Motor Control in the low back pain: Assessment and management. Edited by IN Twomey LT, Taylor JR: Physical Therapy of the low back, Churchill Livingston, New York, 1987.
18. www.jandaapproach.com, accessed August, 2012
19. Hertling D & Kessler R. Management of Common Musculoskeletal Disorders: Physical Therapy Principles and Methods. Fourth Edition. Lippincot Williams & Wilkins. 2006;150.
20. Page P & Frank C. The Janda Approach to Chronic Musculoskeletal Pain. www.jblearning.com/samples/076... Accessed 7/20/14
21. Phil Page Sensorimotor training: A ''global'' approach for balance training Journal of Bodywork and Movement Therapies (2006) 10, 77–84