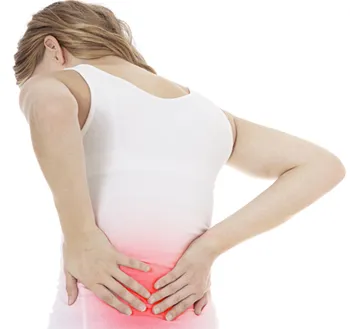 The lumbar spine is subject to tremendous loads. (1) Sprains refer to a force causing movement beyond the normal range of of motion of ligaments in the spine. Strains refer to the muscles surrounding the spine, which act as stabilizers, providing stability of the lumbar spine throughout its normal range of motion (2). The severity of lumbar sprain/strain injuries is dependent upon the magnitude, direction, and persistence of the applied forces. Differentiating sprains from strains is difficult but inconsequential, as treatment is similar for both.

What causes strain/sprains?
Sprain/strain injuries may result from a single event or from cumulative overloading. Acute sprain/ strain injuries are often caused by sudden, excessively forceful movements like a fall, twist, lift, push, pull, direct blow, or abrupt straightening from a prolonged seated or crouched position (1). Other cumulative causes include prolonged poor posture, poor workstations, repetitive movements, improper lifting, sedentary lifestyles, poor conditioning, pregnancy, and obesity (25,59). Prolonged sitting places the lumbar spine at significant risk, particularly when slumping forward or backward. (5-9,21).
Symptoms:
Symptoms of sprain/strain injuries may range from mild to surprisingly debilitating. Pain may begin abruptly, but more commonly develops gradually in the hours or days following an insult. Complaints often include non-specific constant dull lower back pain that becomes sharp with movement. Patients may awaken with pain or note increased symptoms when flexing, bending, twisting, or lifting. Rest may relieve acute symptoms but often leads to inactivity-stiffness. Pain is generally limited to the low back and buttock region but may sometimes refer to the thigh (17). Additional symptoms may be generated from muscular spasms or other myofascial involvement.
Risk factors:
Patients are more susceptible to ligamentous injury in the morning, where flexion-induced forces to the disc are increased by 300% and ligamentous stressors by 80%. (11)
Muscular weakness or imbalance, including weakness in the lumbar muscles or hip muscles, and tightness in the hip flexors or hamstrings (lower crossed syndrome) are predisposing factors to injury.
Smoking
History of surgery
Structural abnormalities
Strain/sprains in sports:
Acute strains are responsible for 60% of athletic injuries involving the lumbar spine and occur most often during practice. (3) Participants in football and gymnastics have the highest rates of lumbar injury. (3) Acute injuries are most likely to occur during combined motions such as lateral bending with flexion, extension, or rotation.
Special Consideration to Teens and Adolescents:
A high prevalence of low back pain has been reported in adolescence. (14-16) Underdeveloped strength, balance, and coordination combined with poor posture, heavy book bags, and rapid growth are thought to contribute to this mounting problem. (8,9)
Do I need an X-ray or an MRI?
Plain film imaging is not necessary and does not improve clinical outcomes for the majority of acute lower back pain patients. (17-20) Plain film imaging is warranted to rule out fracture in the presence of a dangerous mechanism of injury (i.e. car accident), or for presentations suggesting significant degeneration.
Goals of treatment:
The initial goals of treatment include reducing pain, improving function and limiting lost workdays. (22)
Recommended Treatment options:
Spinal manipulation is a valuable tool for the restoration of normal joint mechanics in sprain/strain injuries

Shown to reduce pain and disability in low back pain patients. (27-34,66,67)
Spinal manipulation has been shown to be more effective than other interventions for lower back pain.
The Council on Chiropractic Guidelines and Practice Parameters (CCGPP) advocates a "typical initial therapeutic trial" consisting of 6-12 visits over a 2-4 week period. (65)

Soft tissue therapy addressing muscle tension and/or spasms
Clinicians may choose to implement modalities in the initial phase of care as part of a passive-to-active multimodal approach. (65)
Ice, heat, electrical stimulation, ultrasound, and NSAIDs are commonly employed modalities in the early phases of treatment. (23-25)
Ice may be more appropriate for the first 48-72 hours following an acute injury; thereafter, ice and heat have similar analgesic effects for lower back pain. (23)
Gentle range of motion exercises and isometric strengthening should be implemented to tolerance in the acute phase of healing.
Ergonomic and postural training may include a discussion of workstation ergonomics, posture, sleep, proper lifting mechanics, and modifications of activities of daily living to promote healing and prevent recurrence of symptoms.
The short-term use of a lumbar support belt may be helpful. (56)
Treatments that are not effective:
Immobilization and bed rest are not recommended and typically worsen the issue. (24,25,58,60)
How can I help this issue on my own?
Home programs should focus on improving faulty postures/ biomechanics, including lower crossed syndrome, through stretching and stabilization of the spine and pelvis.
Initially, patients should avoid repetitive bending, twisting, and lifting.
Patients should be encouraged to take "micro breaks" from workstations for ten seconds every 20 minutes.
The use of a lumbar support cushion while sitting will help maintain a healthy arch in your lower back, called a lordosis.
Patients should avoid heavy lifting or prolonged flexion early in the morning or after sitting or stooping for any prolonged period of time (57)
Following prolonged flexed postures, patients may benefit by performing 2-3 repetitions of spinal extension prior to lifting or bending.
At Creekside Chiropractic & Performance Center, we are highly trained to treat each of these conditions. We are the only inter-disciplinary clinic in Sheboygan county that provides chiropractic, myofascial release, ART (Active Release Technique), massage therapy, acupuncture, physiotherapy, rehabilitative exercise, nutritional counseling, personal training, and golf performance training under one roof. Utilizing these different services, we can help patients and clients reach the best outcomes and the best versions of themselves. Voted Best Chiropractor by the Sheboygan Press.
Evidence Based-Patient Centered-Outcome Focused
Sources:
1. Navar D, Zhou BH, Lu Y, Solomonow M. High-repetition cyclic loading is a risk factor for a lumbar disorder. Muscle Nerve. Nov 2006;34(5):614-22.
2. Cholewicki J, Panjabi MM, Khachatryan A. Stabilizing function of trunk flexor-extensor muscles around a neutral spine posture. Spine. Oct 1 1997;22(19):2207-12.
3. Keene JS, Albert MJ, Springer SL, Drummond DS, Clancy WG Jr. Back injuries in college athletes. J Spinal Disord. Sep 1989;2(3):190-5.
4. Joan P Scannell, Stuart M McGill Lumbar Posture—Should It, and Can It, Be Modified? A Study of Passive Tissue Stiffness and Lumbar Position During Activities of Daily Living Physical Therapy, Volume 83 , Number 10 , October 2003
5. Andersson, GB, Honsson B, Ortengren R (1974) Myoelectric activity in individual lumbar erector spinae muscles in sitting. A study with surface and wire electrodes. Scandanavian Journal Rehabilitation Medicine 3(Suppl): 19-108
6. Andersoon GB, Murphy RW, Ortengren R, Nachemson AL (1979) The influence of back rest inclination and lumbar support on lumbar lordosis. Spine 4: 52-58
7. National Institute for Occupational Safety and Health (NIOSH): Musculoskeletal disorders and work place factors . [http:// www.cdc.gov/niosh/docs/97-141/ergoref.html]. Cincinnati, OH: US Department of Health and Human Services. 1997. Retrieved 3/06 27, 2006
8. Kratenova J, Zejglicová K, Malý m, Filipová V: Prevalence and risk factors of poor posture in school children in the Czech Republic. J Sch Health 2007, 77:131-7.
9. El-Metwally A, Salminen JJ, Auvinen A, Macfarlane G, Mikkelsson M: Risk factors for development of non-specific musculoskeletal pain in preteens and early adolescents: a prospective 1-year follow-up study. BMC Musculoskeletal Disorders 2007, 8:46.
10. Bogduk N, Twomney LT (1991) Clinical anatomy of the lumbar spine, 2nd edn. Churchill Livingstone, Mellbourne
11. Adams MA, Dolan P, Hutton WC (1987) Diurnal variations in the stresses on the lumbar spine. Spine
12: 130-137 12. Schneider S , Mohnen SM , Schiltenwolf M . Comorbidity of low back pain: Representative outcomes of a national health study in the Federal Republic of Germany . Eur J Pain 2006 ; 11 : 387 – 97 .
13. Schmidt CO , Raspe H , Pfi ngsten M , et al. Back pain in the German adult population: prevalence, severity, and sociodemographic correlates in a multiregional survey . Spine 2007 ; 32 : 2005 – 11 .
14. Grimmer K, Williams M: Gender-age environmental associates of adolescent low back pain. Applied Ergonomics 2000, 31:343-360.
15. Burton AK, Clarke RD, McClune TD, Tillotson KM: The natural history of low back pain in adolescents. Spine 1999, 21(20):2323-2328.
16. Murphy S, Buckle P, Stubbs D: The use of the portable ergonomic observation method (PEO) to monitor the sitting posture of schoolchildren in the classroom. Applied Ergonomics 2002, 33:365-370.
17. Henschke N, Maher CG, Refshauge KM, et al. Prevalence of and screening for serious spinal pathology in patients presenting to primary care settings with acute low back pain. Arthritis Rheum. 2009;60(10):3072–3080.
18. Chou R, Fu R, Carrino JA, Deyo RA. Imaging strategies for low-back pain: systematic review and meta-analysis. Lancet. 2009;373(9662):463–472.
19. Davis PC, Wippold FJ II, Brunberg JA, et al. American College of Radiology ACR appropriateness criteria. Low back pain. http://www.acr.org/SecondaryMainMenuCategories/quality_safety/app_criteria/pdf/Expert.
20. Webster BS, Cifuentes M. Relationship of early magnetic resonance imaging for work-related acute low back pain with disability and medical utilization outcomes. J Occup Environ Med. 2010;52(9):900–907
21. Vieira ER, Kumar S: Working postures: A literature review. Journal of Occupational Rehabilitation 2004, 14(2):143-159.
22. Becker A, Held H, Redaelli M, et al. Low back pain in primary care: costs of care and prediction of future health care utilization. Spine (Phila Pa 1976). 2010;35(18):1714–1720.
23. French SD, Cameron M, Walker BF, Reggars JW, Ester-man AJ. Superficial heat or cold for low back pain. Cochrane Database Syst Rev. 2006;(1):CD004750.
24. Tao XG, Bernacki EJ. A randomized clinical trial of continuous low-level heat therapy for acute muscular low back pain in the workplace. J Occup Environ Med. 2005;47(12):1298–1306. 15;85(4):343-350.
27. Assendelft WJ , Morton SC , Yu EI , et al. Spinal manipulative therapy for low back pain. A meta-analysis of effectiveness relative to other therapies . Ann Intern Med 2003 ; 138 : 871 – 81 .
28. Lawrence DJ , Meeker W , Branson R , et al. Chiropractic management of low back pain and low back-related leg complaints: a literature synthesis . J Manipulative Physiol Ther 2008 ; 31 : 659 – 74 .
29. Bronfort G , Haas M , Evans R , et al. Evidence-informed management of chronic low back pain with spinal manipulation and mobilization . Spine J 2008 ; 8 : 213 – 25 .
30. Bronfort G , Haas M , Evans R , et al. Effectiveness of manual therapies: the UK evidence report . Chiropr Osteopat 2010; 18 : 3 .
31. Furlan A , Yazdi F , Tsertsvadze A , et al. Complementary and Alternative Therapies for Back Pain II . Evidence Report/Technology Assessment No. 194 (Prepared by the University of Ottawa Evidence-based Practice Center under Contract No. 290-2007- 10059-I (EPCIII) . Rockville, MD : Agency for Healthcare Research and Quality ; 2010 . AHRQ Publication No.10(11)E007 [October 2010].
32. Koes BW , van TM , Lin CW , et al. An updated overview of clinical guidelines for the management of non-specifi c low back pain in primary care . Eur Spine J 2010 ; 19 : 2075 – 2094 .
33. Walker BF , French SD , Grant W , et al. Combined chiropractic interventions for low-back pain . Cochrane Database Syst Rev 2010 ; CD005427 .
34. Rubinstein SM , van MM , Assendelft WJ , et al. Spinal manipulative therapy for chronic low-back pain: an update of a Cochrane review . Spine (Phila Pa 1976) 2011 ; 36 : E825 – 46 .
35. Aure OF, Nilsen JH, Vasseljen O. Manual therapy and exercise therapy in patients with chronic low back pain: a randomized, controlled trial with 1-year follow-up. Spine. 2003;28:525-531; discussion 531-522.
36. Childs JD, Fritz JM, Flynn TW, Irrgang JJ, Johnson KK, Majkowski GR, Delitto A. A clinical prediction rule to identify patients with low back pain most likely to benefit from spinal manipulation: a validation study. Ann Intern Med. 2004;141:920-928.
37. Delitto A, Cibulka MT, Erhard RE, Bowling RW, Tenhula JA. Evidence for use of an extension- mobilization category in acute low back syndrome: a prescriptive validation pilot study. Phys Ther. 1993;73:216-222; discussion 223-218.
38. UK BEAM Trial Team. United Kingdom back pain exercise and manipulation (UK BEAM) randomised trial: Effectiveness of physical treatments for back pain in primary care. BMJ. 2004;329:1377.
39. Wreje U, Nordgren B, Aberg H. Treatment of pelvic joint dysfunction in primary care—a controlled study. Scand J Prim Health Care. 1992;10:310-315.
40. Wolfgang J. von Heymann , Dr. Med , Patrick Schloemer , Dipl. Math , Juergen Timm , Dr. RER, NAT, PhD ,and Bernd Muehlbauer , Dr. Med Spinal High-Velocity Low Amplitude Manipulation in Acute Nonspecifi c Low Back Pain SPINE Volume 38, Number 7, pp 540–548.
41. Christine M. Goertz Adding Chiropractic Manipulative Therapy to Standard Medical Care for Patients With Acute Low Back Pain SPINE Volume 38, Number 8, pp 627–634
42. Fritz, J, Cleland, J, Childs, JD, "Subgrouping Patients With Low Back Pain: Evolution of a Classification Approach to Physical Therapy," Journal of Orthop Sports Physical Therapy 37, no. 6 (June 2007): 290-302.
43. Flynn T, Fritz J, Whitman J, et al. A clinical prediction rule for classifying patients with low back pain who demonstrate short-term improvement with spinal manipulation. Spine. 2002;27(24):2835-2843.
44. Paskowski I, Schneider M, Stevans J, Ventura JM, Justice BD, A Hospital-based Standardized Spine Care Pathway: Report Of A Multidisciplinary, Evidence-based Process. J Manipulative Physiol Ther 2011;34:98-106.
45. Cholewicki J, Juluru K, Radebold A, Panjabi MM, McGill SM. Lumbar spine stability can be augmented with an abdominal belt and/or increased intra-abdominal pressure. Eur Spine J. 1999;8(5):388-95.
47. Frymoyer JW. Back pain and sciatica. N Engl J Med. 1988;318(5):291–300.
48. Carey TS, Garrett JM, Jackman A, Hadler N. Recurrence and care seeking after acute back pain: results of a long-term follow-up study. North Carolina Back Pain Project. Med Care. 1999;37(2):157–164.
49. Stanton TR, Henschke N, Maher CG, Refshauge KM, Latimer J, McAuley JH. After an episode of acute low back pain, recurrence is unpredictable and not as common as previously thought. Spine (Phila Pa 1976). 2008;33(26):2923–2928.
50. Hestbaek L , Leboeuf-Yde C , Manniche C . Low back pain: what is the long-term course? A review of studies of general patient populations . Eur Spine J 2003 ; 12 : 149 – 65 .
51. Choi BK, Verbeek JH, Tam WW, Jiang JY. Exercises for prevention of recurrences of low-back pain. Cochrane Database Syst Rev. 2010;(1):CD006555.
52. Gellhorn AC, Chan L, Martin B, Friedly J. Management patterns in acute low back pain: the role of physical therapy [published ahead of print November 19, 2010]. Spine Phila Pa 1976. http://journals.lww.com/spinej... (subscription required). Accessed May 2, 2011.
53. Fritz JM, Cleland JA, Speckman M, Brennan GP, Hunter SJ. Physical therapy for acute low back pain: associations with subsequent healthcare costs. Spine (Phila Pa 1976). 2008;33(16):1800–1805.
54. Machado LA, Maher CG, Herbert RD, Clare H, McAuley JH. The effectiveness of the McKenzie method in addition to first-line care for acute low back pain: a randomized controlled trial. BMC Med. 2010;8:10.
55. Machado LA, de Souza MS, Ferreira PH, Ferreira ML. The McKenzie method for low back pain: a systematic review of the literature with a meta-analysis approach. Spine Phila Pa 1976. 2006;31(9):E254–E262.
56. Cholewicki J, Juluru K, Radebold A, Panjabi MM, McGill SM. Lumbar spine stability can be augmented with an abdominal belt and/or increased intra-abdominal pressure. Eur Spine J. 1999;8(5):388-95.
57. Snook SH, Webester BS, McGorry RW, Fogleman MT, McCann KB (1998) The reduction of chronic nonspecific low back pain through the control of early morning lumbar flexion. Spine 23: 2601-2607
58. Dahm KT, Brurberg KG, Jamtvedt G, Hagen KB. Advice to rest in bed versus advice to stay active for acute low-back pain and sciatica. Cochrane Database Syst Rev. 2010;(6):CD007612.
59. Ming Z, Närhi M, Siivola J: Neck and shoulder pain related to computer use. Pathophysiology 2004, 11:51-56.
60. Hagen KB, Hilde G, Jamtvedt G, Winnem M. Bed rest for acute low-back pain and sciatica. Cochrane Database Syst Rev. 2004;(4)
61. Roudsari, B., & Jarvik, J.G. (2010). Lumbar spine MRI for low back pain; Indications and yield. American Journal of Roentgenology, 195(3), 550-559
62. Allyson Ianuzzi, Partap S. Khalsa Comparison of human lumbar facet joint capsule strains during simulated high-velocity, low-amplitude spinal manipulation versus physiological motions The Spine Journal Volume 5, Issue 3 , Pages 277-290, May 2005
63. Bronfort, G, Haas, M, Evans, R, Leiniger, B, and Triano, J. Effectiveness of manual therapies: the UK evidence report. Chiropr Osteopath. 2010; 18: 3
64. National Institute for Health and Care Excellence. Early management of persistent non-specific low back pain. NICE, UK; 2009
65. Globe G, Farabaugh R, Hawk C, Morris CE, et al. Clinical Practice Guideline: Chiropractic Care for Low Back Pain. JMPT Jan 2016 Volume 39, Issue 1, Pages 1–22
66. Paige NM, Miake-Lye IM, Booth MS, et al. Association of Spinal Manipulative Therapy With Clinical Benefit and Harm for Acute Low Back Pain; Systematic Review and Meta-analysis. JAMA. 2017;317(14):1451-1460.
67. Qaseem A, Wilt TJ, McLean RM, Forciea MA, for the Clinical Guidelines Committee of the American College of Physicians. Noninvasive Treatments for Acute, Subacute, and Chronic Low Back Pain: A Clinical Practice Guideline From the American College of Physicians. Ann Intern Med. Ann Intern Med. 2017;166(7):514-530.