Tarsal tunnel syndrome, first described in 1962, is a relatively common condition. It is caused by the compression of the posterior tibial nerve as it passes through the tarsal tunnel of the foot. Tibial nerve compression results in pain and/or numbness, and tingling radiating into the plantar arch and the heel. Tarsal tunnel syndrome may be under-diagnosed as it sometimes mimics plantar fasciitis.
The tarsal tunnel is formed by the flexor retinaculum ligament, which extends posteriorly and inferiorly from the medial malleolus. The tarsal tunnel houses three tendons, an artery, and the tibial nerve.
What causes you to get tarsal tunnel?
Flat feet are one of the biggest risk factors. There is an almost 30 fold increased pressure with pronation (flattening of the arch of the foot) as compared to neutral position (2). Since over pronation is often present bilaterally, tarsal tunnel syndrome commonly affects both feet. Other causes of tarsal tunnel include trauma (17%) or varicosities within the tunnel (13%). Inflammation of another local tissue may cause nerve compression. Alcoholism, diabetes and thyroid disorders may be superimposed on entrapment neuropathies.
Are men or women more likely to get tarsal tunnel?
There is a slightly higher occurrence of tarsal tunnel in females vs males (3). Transitioning from high heels to flats on weekends is suspect.
What are the symptoms of tarsal tunnel?
Symptoms of tarsal tunnel include numbness, pain or altered sensations in the plantar arch and heel. The discomfort is often described as "burning". Symptoms may increase with prolonged standing, running or exercise. Forty-three percent of people report pain that is worse at night. (4). Symptoms can occur suddenly from a trauma or gradually from weight bearing overuse type injuries. Symptoms may present as part of the "Heel Pain Triad": the combination of plantar fasciitis, posterior tibial tendon dysfunction and tarsal tunnel syndrome. Researchers think that a failure of the plantar fascia combined with a failure of the posterior tibial tendon results in a traction injury to the tibial nerve (5).
Do I need testing or imaging to determine if I have tarsal tunnel?
Typically, no. Orthopedic testing can be performed to reproduce your symptoms and determine the cause of your issue. X-rays are of no value in this issue unless stress fracture, bone lesion, or exostosis is suspected. Electrodiagnostic testing is not generally required unless motor involvement is suspected. If necessary, EMG/NCS can help to differentiate nerve entrapment from radiculopathy or peripheral neuropathy.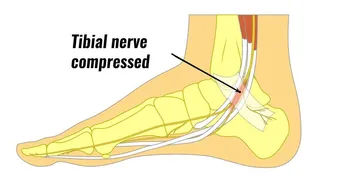 What are the treatment goals with tarsal tunnel?
Goals of management are first to reduce pain and inflammation and second to correct biomechanical dysfunctions such as overpronation, improper foot or gait mechanics, thus allowing return to full activity. Initial treatment may include: reassurance, rest, ice, anti-inflammatory modalities, and NSAIDS. Early correction of overpronation is critical. Individual needs vary from over-the-counter arch supports to custom orthotics.
What type of shoes should I wear?
Patients should consider a motion control shoe to prevent excess pronation, and avoid wearing high heels.

What types of treatments can you perform at Creekside Performance Center for tarsal tunnel?
IASTM or myofascial release techniques may be helpful to release myofascial adhesions in or near the tarsal tunnel, although some discretion is necessary to avoid further trauma to the nerve. Nerve mobilization is a useful adjunct for improving nerve function (9). Hypertonicity and trigger points in the calf muscles are common and may benefit from manual therapy. Stretching of the calf muscles as well as the plantar fascia can be implemented with prudence as dorsiflexion becomes more tolerable. Strengthening of the tibialis posterior will help support the arch and may be accomplished by having the patient sit with the affected ankle crossed at knee, placing a resistance band over the affected forefoot-secured beneath other foot, and moving affected foot "up" into inversion and slight dorsiflexion. Manipulation may be beneficial to re-establish normal motion to fixations in the cuboid and talonavicular joint, (8) as well as associated spinal segments.
What other treatments are available?
Failure of conservative treatment requires further diagnostic work-up and consideration of referral to a podiatrist. Surgical management may include microsurgical decompression.
At Creekside Performance Center, we are highly trained to treat this. We are the only inter-disciplinary clinic providing services to Sheboygan, Sheboygan Falls, Plymouth, and Oostburg including chiropractic, manual therapy, myofascial release, ART (Active Release Technique), massage therapy, acupuncture, physiotherapy, rehabilitative exercise, nutritional counseling, personal training, and golf performance training under one roof. Utilizing these different services, we can help patients and clients reach the best outcomes and the best versions of themselves.
Evidence Based-Patient Centered-Outcome Focused
Sources:
1. Daniels TR, Lau JT, Hearn TC. The Effects of Foot Position and Load on Tibial Nerve Tension. Foot Ankle Int. Feb 1998;19(2):73-8
2. Trepman E, Kadel NJ: Effect of Foot and Ankle Position on Tarsal Tunnel Compartment Pressure. Foot Ankle Int. 2000: Nov 20(11):721
3. Lau J, Daniels T. Tarsal Tunnel Syndrome: a Review of the Literature. Foot Ankle Int. 1999;20(3):201-209 4
. Mondelli M, Morana P, Pauda L. An Electrophysiological Severity Scale in Tarsal Tunnel Syndrome. ACTA Neurol Scand. 2004;109:284-289
5. Labib, SA et al. Heel pain triad (HPT): The Combination of Plantar Fascitis, Posterior Tibial Tendon Dysfunction and Tarsal Tunnel Syndrome, Foot Ankle Int 2002 Mar;23(3):212-20
6. Alshami A, Babri A, Souvlis T, Coppieters M. Biomechanical Evaluation of Two Clinical Tests for Plantar Heel Pain: the Dorsiflexion-Eversion Test for Tarsal Tunnel Syndrome and the Windlass Test for Plantar Fasciitis. Foot & Ankle Intern. 2007;28(4):499–505.
7. Kinoshita M, Okuda R, Monkawa J: A New Test for TTS. J Bone Joint Surg Am 2002:Sept;04-A(9):1714-5
8. Hudes K. Conservative Management of a Case of Tarsal Tunnel Syndrome, J Can Chiro Assoc. 2010 June 54(2): 100-106
9. Yasemin Kavlak and Fatma Uygur Effects of Nerve Mobilization Exercise as an adjunct to the Conservative Treatment ofr Patients with Tarsal Tunnel Syndrome J Manipulative Physiol Ther 2011;34:441-448
10. Amr A.K.H. Abouelela The triple compression stress test for diagnosis of tarsal tunnel syndrome The Foot Volume 22, Issue 3, September 2012, Pages 146–14